Sanofi Says 2016 Profit Won't Grow as Bestseller Lantus Fades
Lantus sales drop amid biosimilar competition in Europe

Genzyme sales surge, lifted by demand for Aubagio therapy
Sanofi said profit won't grow much this year, held back by sliding sales of its best-selling medicine, the insulin Lantus. The stock fell to its lowest level in two years.
Earnings per share excluding some costs and currency movements, which France's largest drugmaker calls business net income, will be "broadly stable" in 2016, the Paris-based company said in an e-mailed statement on Tuesday. The drugmaker reported fourth-quarter profit that beat analysts' estimates, though sales of Lantus disappointed.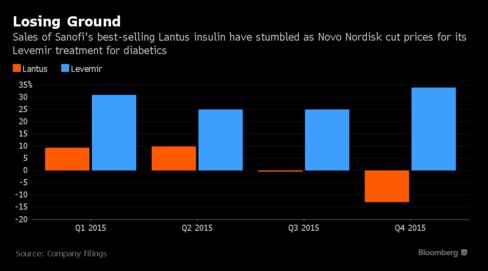 Chief Executive Officer Olivier Brandicourt, who took over in April, has pledged to slash 1.5 billion euros ($1.68 billion) in costs to help sustain growth through 2020 as Lantus fades. The diabetes drug's sales fell 13 percent to 1.54 billion euros last quarter, hurt by pricing pressure in the U.S. and competition in Europe. That's less than the 1.67 billion-euro average estimate of nine analysts.
Sanofi fell as much as 1.3 percent in Paris to 69 euros, the lowest level since Feb. 6, 2014. It ranks among the worst performers in the Bloomberg index that tracks European drugmakers over the past 12 months with an 18 percent decline. That's a better performance than rivals Bayer AG and Novartis AG, but worse than GlaxoSmithKline Plc and AstraZeneca Plc.
Business net income was 1.71 billion euros, or 1.31 euros a share, in the fourth quarter, down from 1.83 billion euros, or 1.39 euros a share, a year earlier, the company said. That beat the 1.28-euro average of 14 analyst estimates compiled by Bloomberg. Sales rose 2.3 percent to 9.28 billion.
Brandicourt is betting that new therapies such as Praluent, a powerful cholesterol treatment that first went on sale in July, the Toujeo insulin and Aubagio for multiple sclerosis, will help make up for the Lantus revenue shortfall. Revenue from Toujeo, now available in more than 20 countries, was 98 million euros in the quarter.
Sanofi is in exclusive talks to trade its animal health business Merial with Germany's Boehringer Ingelheim GmbH's consumer-health operations. The company also is considering options for its European generics operations. Brandicourt has said he is seeking deal that will help Sanofi bolster its competitive position in areas such as oncology. The company will consider transactions as big as the $20.1 billion acquisition of Cambridge, Massachusetts-based Genzyme in 2011, the CEO said in January.
In addition:
* Newcomer Praluent records sales of 5 million euros
* Board proposes dividend of 2.93 euros
* Sanofi to continue allocating resources to its late-stage pipeline in 2016
* Genzyme unit sales surge 36 percent to 1.01 billion euros
* Vaccines sales advance 23 percent to 1.44 billion euros
Before it's here, it's on the Bloomberg Terminal.
LEARN MORE