HSBC: Sweden's Experience Shows Negative Rates Haven't Worked
A year below zero and all Sweden got was a housing bubble.
A number of the world's largest central banks have moved policy rates into negative territory in an attempt to enhance monetary stimulus and expedite the healing process in their respective economies.
The problem, according to HSBC, is that Sweden's experience with negative rates shows this ambitious monetary experiment has failed.
The Riksbank has succeeded in generating inflation, said economist James Pomeroy. The bad news, however, is that it's all in real estate values.
"Altogether, we would argue that the move to negative rates has been unsuccessful," asserts Pomeroy ahead of the Riksbank's next rate decision on Thursday. "Inflation remains close to zero, the currency has strengthened and although growth has improved, this has come at the cost of a housing bubble."
The economist contends that Sweden serves as a better controlled experiment to evaluate the efficacy of negative interest rate policy than Japan or the Eurozone.
Because currency in circulation was trending downwards well in advance of sub-zero rates, households have a reduced ability to duck negative rates that might be passed along to them by withdrawing and hoarding cash. That the overwhelming majority of retail sales are completed using an electronic method of payment also suggests that any desire to do so has not been widespread.
"Due to the absence of theory on the subject of negative rates, the experiences of Sweden over the past year may be relevant and should be considered not just by the Bank of Japan and the ECB, but any central bank struggling to generate inflation," warned Pomeroy.
In Sweden, the consumer is driving growth, credit expansion is occurring at a robust clip, but the central bank remains far away from achieving its inflation target.
Determining how much negative rates influence credit growth—or even in which direction—is difficult. In theory, sub-zero policy rates also exert downward pressure further out on the curve; in practice, the ability of banks to pass the costs associated with negative rates onto borrowers (rather than directly on depositors) serves as a countervailing force.
For what it's worth, recent price actions in Japanese and European banks, which has also been imported by their North American counterparts, all suggest that the market is of one mind: negative rates will a hindrance, not a help, to these entities.
The transmission mechanism by which lower rates stimulate real economic activity remains murky, and may continue to be for quite some time given the limited empirical results of these regimes.
What limited information is available led strategists at Deutsche Bank to conclude that "negative rates are not an optimal tool for easing financial conditions." Interestingly, they found that foreign exchange tends to be the primary avenue by which negative rates support growth, since currency traders tend to be focused on shorter-term interest rate differentials when selecting and funding positions.
To HSBC's Pomeroy, the resilience of the Swedish krona and frothy housing market are signaling that ratcheting up currency intervention is a better option than a rate cut for the Riksbank at present.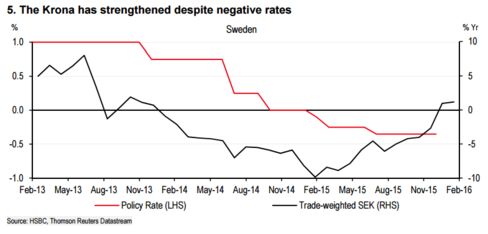 "Having been the first central bank to adopt stand-alone negative rates, the Riksbank may now be the first to turn its back on them," he wrote.
The economist acknowledges, however, that it's very well possible things would have played out worse for Sweden. Growth was likely stronger than it would have been otherwise. The problem, however, is that the composition of this growth has fostered imbalances in the housing market that have not been adequately leaned against with macroprudential measures.
But under central bank orthodoxy, above-trend growth is a necessary prerequisite for a sustained period of higher inflation. As slack is eliminated and demand for goods and services outstrips an economy's productive capacity, theory holds that prices should rise.
It's also difficult to use the Swedish case in isolation to suggest that negative rates have been pushing on a string in the exchange rate channel, as expectations of additional accommodation from the European Central Bank in the form of more-negative rates and adjustments to its asset purchasing program has factored into the strength of the trade-weighted krona.
And while Sweden's headline annual inflation rate remained just a tick above zero at the end of 2015, the underlying inflation rate rose to 0.9 percent year-over-year from 0.5 percent at the end of 2014. Pomeroy, however, attributes this increase to transitory factors.
So perhaps the Swedish story is similar to the vast majority of central banks rather than evidence that sub-zero rates don't work. Oil weakness and currency strength are exerting downward pressure on headline inflation, monetary policy is supporting economic growth, and the core inflation rate is moving towards target more slowly than central bankers would like.
Sound familiar?
Before it's here, it's on the Bloomberg Terminal.
LEARN MORE