Freeport Wins Indonesia Ministry Nod to Resume Sales
Energy and mineral resources ministry issues recommendation

Exports from Grasberg can start after trade ministry permit
Indonesia 's Energy and Mineral Resources Ministry issued a recommendation for Freeport-McMoRan Inc. to renew its export permit that will pave the way for the company to resume shipments from Grasberg, one of the world's largest copper and gold mines.
The recommendation was issued on Tuesday, Bambang Gatot Ariyono, director-general of coal and minerals at the ministry, said without giving further details. The Trade Ministry, which will issue the export license, has yet to receive the recommendation, Didi Sumedi, export director for mining and industry products, said in a text message on Tuesday.
The endorsement bolsters the Phoenix-based producer as it struggles with a collapse in metals prices and after Moody's Investors Service cut its credit rating four levels to junk last month. The company's shares have sunk 72 percent in the past year. The Grasberg mine in Papua is the world's largest in terms of copper capacity after Escondida, according to the International Copper Study Group. The company says it has the single biggest gold reserves.
PT Freeport Indonesia, the local unit, expects to get the export permit soon, spokesman Riza Pratama said in a text message. The company had to seek the renewal of the permit, which expired Jan. 28, to export 1 million metric tons of concentrates over the next six months.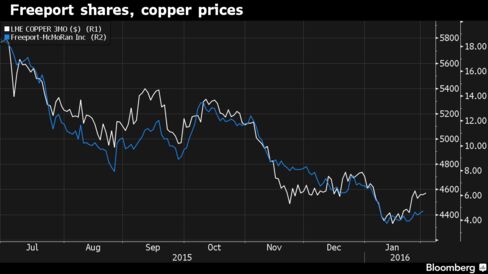 The producer has said the mining and milling operations continued normally during the talks for a fresh permit. The country is seeking to renegotiate mining contracts with foreign companies, arguing that too much mineral wealth is disappearing overseas. The government has banned the ore exports to encourage domestic processing.
Freeport, which mined $1.7 billion of copper and $1.4 billion of gold in 2015 from Grasberg, also wants to extend its contract to operate in Indonesia. That expires in 2021, and the company has agreed to sell shares as part of the negotiation. An Indonesian official said last month that Freeport had offered the government an 11 percent stake in its local unit for $1.7 billion. Freeport has confirmed an offer was made though it didn't give details.
Freeport has agreed to pay 5 percent tax on exports of concentrates, Ariyono said in the parliament on Tuesday. The government and Freeport are still discussing a $530 million deposit for a new smelter, he said.
Operations at Grasberg, in the mountains of Papua, have been plagued by labor strife in recent years. Workers seeking higher wages took strike action in 2011 and the mine was closed for months following a tunnel collapse in 2013 that killed 28 people. Exports were disrupted in 2014 after a dispute with the Indonesian government over export duties.
(
Corrects size and scope for Grasberg copper mine in third paragraph.
)
Before it's here, it's on the Bloomberg Terminal.
LEARN MORE