Eastern Europe Seeks 'Any Able-Bodied' Workers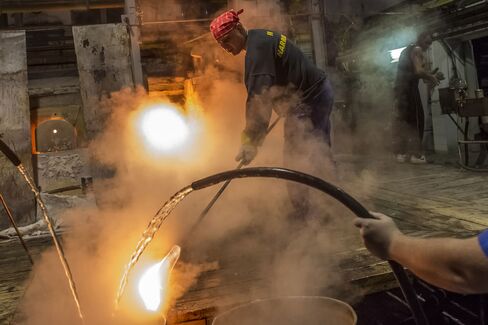 Low unemployment undermines eastern EU's low-cost approach

Labor scarcity forces companies to raise wages, import workers
While double-digit unemployment is devastating lives and rumbling politics in Spain and Greece, business owners in the European Union's developing east are having a different problem.
Czech entrepreneur Zbynek Frolik is one of them. Demand for his state-of-the-art hospital beds is so high that he needs a new factory. Yet with the rest of his country's economy also booming, he can't find the workers he needs.
"There's simply a huge shortage of labor," said Frolik, who has built his company, Linet, into a global leader with annual sales of $240 million. "At this point, I just want any able-bodied person who wants to work.''
The scenario is playing out across the region stretching from the Baltics to the Balkans, where cheap labor and untapped markets lured tens of billions of euros in investment after the fall of the Iron Curtain. That fueled booming growth and lifted living standards, especially since the European Union's big-bang expansion into the region in 2004. Now falling unemployment and the exodus of millions of workers looking for higher wages are exposing the limits of the low-cost growth model.
Policy makers have warned of looming labor shortages, but the reasons vary by country. In the Czech Republic, the EU's third-fastest growth and lowest unemployment have made workers scarce across the economy. In Slovakia, the world's biggest auto producer per capita, companies are struggling to find specialists in the industry even as Jaguar Land Rover Automotive Plc prepares to build the country's fourth car plant. For Hungary and Poland, the problem is exacerbated by young people moving to Britain, Germany and other places where wages are higher.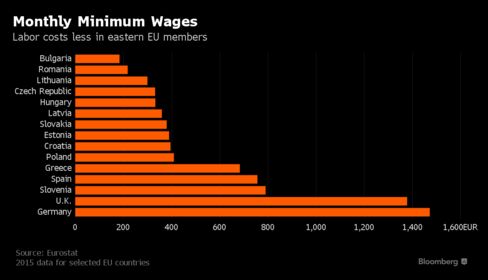 The global rout in emerging-market stocks and bonds has driven the Polish zloty 5.2 percent and the Hungarian forint 0.8 percent weaker against the euro in the past 12 months. Although the declines are helping exporters remain competitive and kindling growth, economists say dependence on currency weakness isn't a long-term growth strategy.
There are two ways to tackle the problem in the short term, according to Radomir Jac, chief economist at the Prague-based asset-management unit of Assicurazioni Generali SpA: import workers or boost salaries in a shift away from a growth model dominated by manufacturing. A fresh look at the region's performance is due out Friday, when Poland, Hungary, Slovakia and Romania release fourth-quarter growth data.
"Central Europe needs a new economic model that wouldn't depend so much on exports and the car industry," Jac said by phone. "Its economies need to diversify and start making products with added value."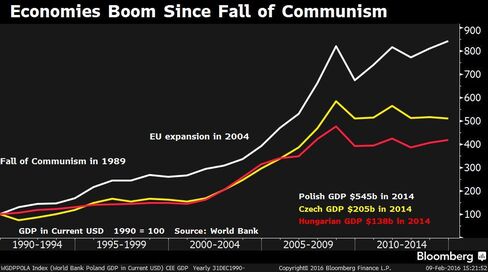 Poland, the region's largest economy and one that ballooned to $545 billion at end-2014 from $65 billion in 1990, is doing both. Unemployment fell to 7.1 percent in December, the lowest since 2008 and far below the 20 percent before EU entry, according to Eurostat.
Unfilled job vacancies jumped to 73,200 in the third quarter, an increase of 22 percent from a year earlier. Companies are raising salaries -- wages have more than doubled to an average of 32,446 zlotys ($8,222) a year since EU entry -- which is prompting some investors to consider moving to cheaper countries further east. Others are importing workers from Ukraine, a country that shares similarities in languages and culture and has seen its own exodus of workers during it violent conflict with pro-Russian separatists in its easternmost regions.
"In many regions, importing workers from Ukraine is the only remedy," Marek Sliwinski, a job-market expert at employment agency Work Force SA, said by e-mail. "Without those Ukrainians, quite a few companies wouldn't be able to complete their orders, and this would have a negative impact on economic growth."
'Higher Shortage'
The Czechs are facing a similar situation, with an economy that grew 4.7 percent in the third quarter. Unemployment fell to 4.5 percent in December, the EU's lowest along with Germany, according to Eurostat. Growth is expected to have slowed to 4.5 percent last quarter, according to a Bloomberg survey before the data's release next week. That compares with with 3.8 percent for Poland, 3.5 percent for Slovakia and 2.5 percent for Hungary, other surveys show.
After the Czech Industry Association urged the government to help its members fill about 150,000 jobs they expect to stand empty this year, the governing coalition's leaders agreed to simplify visa procedures for foreign workers at a session on Tuesday.
"Dozens of companies are struggling because of our policy toward their employees from Ukraine," Deputy Prime Minister Pavel Belobradek told Hospodarske Noviny newspaper. "If it's advantageous for the Czech Republic, we want to make legal economic migration easier."
Jon Hill, managing director at employment provider Grafton Recruitment, said the continuing fall in Czech unemployment will lead to "an even higher shortage of university graduates with technology and engineering degrees, as well as the non-qualified workforce," in 2016, according to a December report. That echoed a survey of executives in Estonia by PricewaterhouseCoopers, which found labor scarcity had replaced geopolitical risks as the main economic concern.
Alternative Route
The lack of workers outside capitals including Warsaw, Prague, and Budapest has transformed cities that suffered during the transformation from centrally-planned to market-based economies. One is Hungary's Tatabanya, a city of about 70,000 people about 60 kilometers (37 miles) west of Budapest, which faced a spike in unemployment in the early 1990s after uncompetitive mines and factories went bust. Now flooring company Graboplast Zrt. is setting up production there.
"Tatabanya used to be a synonym for industrial depression," Prime Minister Viktor Orban said on Feb. 4 as he inaugurated the new plant. "Now it's a city challenged not by unemployment but a shortage of available and quality labor."
'Most Industrialized'
Orban has eschewed recommendations to shift to service industries, calling that approach "misguided." He's seeking to cap high school and university admissions and channel students into trade schools to solidify Hungary's position as one of Europe's "most industrialized" countries.
Yet, with hundreds of thousands of people having traveled west, that will be difficult. There are about 50,000 unfilled vacancies in the car sector, followed by about 30,000 in shared services, Laszlo Dalanyi, country manager of employment-service provider ManpowerGroup in Budapest, said Tuesday. Even the country's largest private industrial conglomerate, Videoton, is having to raise salaries, push employees to work overtime and become more efficient.
"The system is stretched," Videoton co-Chief Executive Officer Otto Sinko said in an interview. "Practically everyone who wants to work already has a job."
The eastern European economic model won't change overnight. The region is once again competing for a familiar investment: where the next engine factory should be set up, Hungarian Economy Minister Mihaly Varga told university students on Tuesday in Budapest, without naming the investor.
"When there's an investment decision to be made, and there's one on the table right now about where in central Europe a new engine factory should be constructed, we have to compete with the Poles, the Czechs and the Slovaks," Varga said. "We'll all submit bids to the company" to prove that this is the best place for their investment.
Before it's here, it's on the Bloomberg Terminal.
LEARN MORE