Disney Sinks Lower as ESPN Profit Overshadows 'Star Wars'
Programming costs, subcriber losses, dollar hit sports network

Studio, consumer units post gains from latest film release
Walt Disney Co. shareholders overlooked a record quarter for sales and earnings and focused on flagging profits at ESPN sports network, a sign of how uneasy investors have become about the splintering of the cable-TV industry's traditional business model.
Disney slumped 3.3 percent to $89.25 in extended trading Tuesday after fiscal first-quarter results were announced. The shares had already fallen 12 percent this year, part of a selloff in media stocks as investors fret over cable subscriber defections and competitive threats like Netflix and Hulu.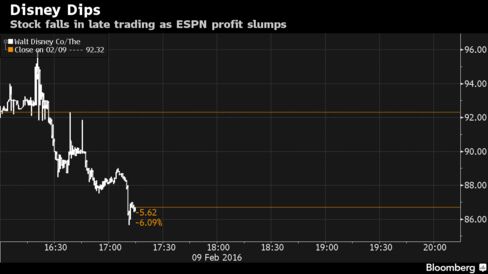 Investors are watching to see if ESPN, Disney's biggest profit contributor, can stem subscriber losses, which continued in the first quarter. Bob Iger, chairman and chief executive officer, tried to address those concerns on a call, saying the company saw an uptick after the quarter. Earnings at the unit that includes ESPN and ABC slid 6 percent, the result of higher program costs and fewer viewers, along with currency fluctuations.
"It is clear that the market is still nervous about cord-cutting and its impact on the cable television business," Paul Sweeney, a Bloomberg Intelligence analyst, said in an e-mail.
Profit excluding some items rose to $1.63 a share in the first quarter, Burbank, California-based Disney said in a statement. That exceeded the $1.45-a-share average of analysts' projections compiled by Bloomberg. Revenue grew 14 percent to $15.2 billion in the period ended Jan. 2, compared with estimates of $14.7 billion.
The December movie hit "Star Wars: The Force Awakens" boosted the film studio and consumer-products business.
Studio earnings leapt 86 percent to $1.01 billion on results from "The Force Awakens"
Earnings in the consumer products unit gained 23 percent, with "Star Wars" products registering $3 billion in retail sales
Theme-park profit grew 22 percent to $981 million on attendance gains
Net income rose 32 percent to $2.88 billion, or $1.73 a share
The uptick in ESPN subscribers could be the result of consumers signing up for so-called skinny packages offered by pay-TV providers like Dish Network Corp., Iger said on a call with investors. Dish's $20-a-month Sling TV is a less-expensive bundle delivered over the Internet and Iger said Disney is in talks with distributors to be in more of those offerings.
TV Light
"We're also pleased with what we're hearing from Dish about the response to Sling TV, a light package that includes ESPN," Iger said. "The service appears to be growing nicely and is proving very attractive to young consumers in particular."
Media stocks have been hammered by investors fretting that the TV industry's two main sources of revenue -- monthly pay-TV bills and advertising -- will no longer grow as they once did. Some households are reducing their cable service by purchasing skinny bundles, while younger viewers are embracing new media like YouTube, Netflix and Hulu.
Viacom Inc., the owner of MTV and Nickelodeon, fell the most ever Tuesday after reporting lower sales and profit for the fiscal first quarter. The stock slumped 21 percent to $32.86 and is down 63 percent from its March 2014 peak. 21st Century Fox Inc. fell 1.9 percent to $24.14 after the company said the strong dollar will reduce fiscal 2016 profit.
Time Warner Inc., owner of HBO, CNN and the Warner Bros. film and TV studio, reports fourth-quarter results Wednesday before markets open. Analysts forecast profit of $1 a share excluding items, the average of estimates compiled by Bloomberg, with revenue of $7.55 billion.
College Games
At Disney, ESPN aired more college playoff games in the period, pushing expenses up. Broadcast revenue, from ABC and local stations, rose 7 percent to $1.81 billion while profit declined 7 percent. The company cut its growth forecast for the cable business last August, triggering a drop in media stocks.
Disney's studio division, with two straight years of record profit, has picked up some of the slack from the media networks, which have registered slowing growth yet still contribute more than half of annual profit.
"The Force Awakens" was released on Dec. 18, meaning the bulk of its $2 billion in global ticket sales occurred after the quarter ended. The movie is the top-grossing picture in U.S. history and third-largest worldwide, according to researcher Box Office Mojo. The film division has thrived on features from the Marvel and animation businesses.
Before it's here, it's on the Bloomberg Terminal.
LEARN MORE