Asciano Creditors Scamper for Protection as Bidding War Heats Up
Cost of insuring Asciano debt soars after Qube sweetens offer

Rival bidder Brookfield looking to put together new proposal
The bidding war for Australian port and rail operator Asciano Ltd. is sending debt investors scurrying for protection.
Two separate bidding groups are slugging it out for control of the company and while that may be good news for stockholders, bond investors are concerned about a breakup of Asciano's assets should the consortium led by Qube Holdings Ltd. prevail. There are risks that the firm's debt could end up being owed to an entity with weaker credit ratings and a less diversified business.
The cost of insuring Asciano bonds with credit-default swaps soared to 332 basis points on Tuesday after Qube-led investors made a sweetened offer valuing the company at A$9 billion ($6.4 billion). That eclipsed an earlier bid by Brookfield Asset Management Inc., which is now working on an all-cash counterproposal. Asciano's CDS cost was at 207.5 basis points on Jan. 27, the day before Qube's binding bid was announced.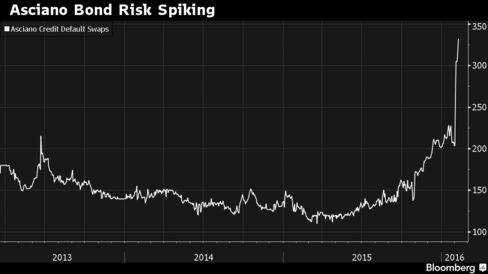 "Brookfield is the preferred outcome for bondholders at this stage," said Brendon Cooper, a credit strategist at Westpac Banking Corp. in Sydney. "If Brookfield get a hold of the assets, then we retain Asciano as we know it effectively at the moment. If Qube happen to get this, then effectively we're left with that above-rail haulage business and that is it."
Two Propositions
Asciano said on Monday that Brookfield has until Feb. 15 to match or beat a A$9.24 a share offer submitted by Qube along with partners Global Infrastructure Management LLC, Canada Pension Plan Investment Board and a unit of China Investment Corp. Under that plan, the Sydney-based logistics firm would buy the port business, including the Patrick container terminals. The rail operation will stay with its co-bidders while the remaining bulk and automotive port unit will be on-sold to an as yet unidentified third party, Qube said Jan. 28.
While Brookfield's proposition, which currently includes stock as well as cash, would involve hiving off a rail container unit to satisfy Australia's competition regulator, it would keep the bulk of Asciano's businesses together.
The Canadian investment firm, whose partners include British Columbia Investment Management Corp. and Singapore sovereign fund GIC Pte, has indicated it's looking to put together an all-cash offer at A$9.28 a share. Qube currently holds 19.99 percent of Asciano, while Brookfield owns 20.58 percent, according to Bloomberg-compiled data.
Asciano shares dropped to A$8.94 on Wednesday in Sydney as Australia's benchmark stock index fell into a bear market. The company's share price had risen to A$9.10 on Monday, its highest closing level since 2008.
'Superior Offer'
"Qube is in a very strong position now because they have the superior offer and will most likely have easier passage through regulatory clearances than Brookfield," said James Santo, who works in special situations sales at Aviate Global LLP in Sydney. "Qube management are also better known and regarded locally and they can offer equity investors the potential upside of remaining invested in the ports business."
Representatives from Asciano, Qube and Brookfield declined to comment.
A greater focus on the rails business could leave Asciano confronting some of the same issues as its Australian peers, which have been hurt by the downturn in coal and other commodities. Haulage company Aurizon Holdings Ltd. and infrastructure owner Australian Rail Track Corp. had their credit ratings placed on review for downgrade this month by Moody's Investors Service.
"As every day goes by, it gets more difficult for a standalone rail business to be investment grade," according to Westpac's Cooper, who said there was some uncertainty about what kind of credit score Qube's partners might seek to maintain for the business.
Ratings Risk
Asciano carries a rating of BBB at Standard & Poor's, the second-lowest investment-grade score, and is on negative watch at the credit assessor. Moody's has it at the equivalent ranking of Baa2 with a negative outlook.
Asciano's CDS have more than doubled over the past year, and it's more expensive to insure the firm's debt than that of Woodside Petroleum Ltd., Rio Tinto Group and BHP Billiton Ltd., all of which have been hit by the global slump in resources. It's more costly even than Crown Resorts Ltd., the casino operator that's priced as the most risky credit in the iTraxx Australia CDS index.
The yield premium over the swap rate on Asciano's May 2025 Australian dollar bonds widened to 275 basis points as of 6 p.m. on Wednesday in Sydney, based on Australia & New Zealand Banking Group Ltd. prices, having been sold at a gap of just 215 last May.
"From a credit investor's perspective the Qube bid is the weaker offer," said
Scott Rundell, chief credit strategist at Commonwealth Bank of Australia in Sydney. "At the end of the day, there is a downgrade risk."
Before it's here, it's on the Bloomberg Terminal.
LEARN MORE