Sharp Rally Spells Bad News for Short-Selling Hedge Funds
Sharp is the second-most shorted stock in Japan after Toshiba

Lansdowne, Egerton among investors that bet on shares falling
Sharp Corp.'s 42 percent increase since the beginning of the year has left hedge funds that have placed wagers on a decline in the stock of the Japanese consumer electronics maker in the midst of a bailout smarting.
Osaka-based Sharp is the most-shorted stock by the number of shares after Toshiba Corp., according to filings with the Japan Exchange Group. Shares of Sharp gained 28 percent in the last two trading days of last week in Tokyo to 176 yen, reaching the highest level since Aug. 31. That may spell losses for hedge funds including Lansdowne Partners LLP and Egerton Capital (UK) LLP, which have disclosed bearish bets on the stock since November.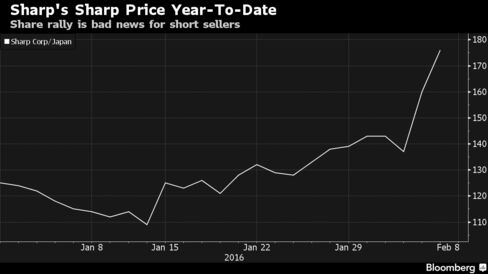 Sharp shares, which declined 53 percent in 2015, have pared losses since the beginning of the year when the company started negotiating with rival bidders Foxconn Technology Group and state-backed Innovation Network Corp. of Japan. About 134.96 million of Sharp's shares are being shorted, which is equivalent to about 8 percent of its total outstanding stocks, according to filings to Japan Exchange Group.
The stock gained 0.6 percent to 177 yen at the close in Tokyo, while the benchmark Topix index rose 0.8 percent.
Lansdowne disclosed its bearish bets on the stock on Jan. 20, while Egerton revealed its short-selling positions on Sharp on Nov. 27, according to filings with the Japan Exchange Group. Rob White of Greenbrook Communications, a spokesman for Lansdowne that has $22 billion under management, declined to comment. Phone calls and e-mails sent to Egerton with $13.7 billion in assets under management were not returned.
Foxconn Chairman Terry Gou is stepping up pressure on Sharp to quickly accept his proposed bailout after the chief executive officer of the Japanese company said last week he planned to take another month to choose between the two competing offers.
Gou has pushed hard for a deal even as it looked unlikely he would win. Sharp had been inclined to take the bid from government-backed Innovation Network, which offered about 300 billion yen ($2.6 billion), people familiar with the matter said last month. But then Gou raised his bid from 600 billion yen to about 660 billion yen and flew to Japan to make a personal appeal to Sharp's board, its banks and government officials, a person familiar with the matter has said.
Before it's here, it's on the Bloomberg Terminal.
LEARN MORE