Private-Equity Mining Deals Seen Rising in 2016 as Majors Sell
Value of deals jumped 57% in 2015, according to U.K. law firm

Total PE investment of $3.2 billion in 2015 tipped to rise
The value of private-equity deals in the mining industry will rise this year from $3.2 billion in 2015 as top producers seeking to cut the fat amid a global commodity rout offload unwanted operations, according to U.K. law firm Berwin Leighton Paisner.
"The majors are looking to divest a lot more," Alexander Keepin, head of mining at BLP, said in a phone interview. "There should be a point where the value expectations of the majors and the cash available from the private-equity groups means that there will be more transactions."
The biggest miners have been battered by the slump in commodity prices that's forced producers to scrap payouts to investors, sell shares to bolster cash reserves and dispose of lower-quality mines and smelters. Private-equity deals in mining have been increasing and jumped 57 percent last year, according to a report from BLP on Monday. The closely held investment groups have raised more than $12 billion since 2013, according to Bloomberg Intelligence.
Highest Profile
"Prices have come down to a point where I think everyone is now more realistic in their expectations and there is a sort of desire to do deals, so M&A activity, I think, will pick up this year," Keepin said. Private equity may raise more money this year, he said.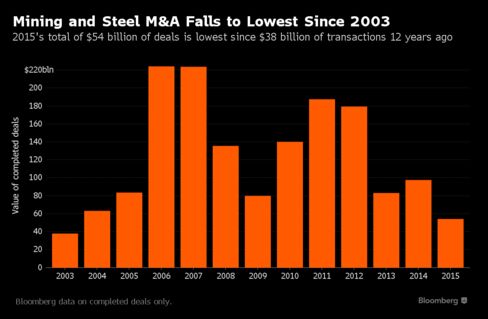 Former Xstrata Plc Chief Executive Officer Mick Davis is the highest profile private-equity fundraiser, founding X2 Resources in 2013 with other former executives of the miner acquired by Glencore Plc earlier that year. He raised about $5 billion from backers including Noble Group, private-equity fund TPG Capital and other sovereign-wealth and pension-fund investors in 2014. So far, Davis hasn't deployed any capital and doubts surrounding Noble Group's capacity to offer any funds have intensified amid the collapse in raw materials.
Former Barrick Gold Corp. CEO Aaron Regent has been more active with Magris Resources Inc. The company spent more than $500 million buying a niobium mine and rare-earth deposit in Quebec from Iamgold Corp. in 2014. Regent is also said to be interested in a Glencore copper mine in Chile, offering close to $1 billion for the asset.
Audley Capital will spend more than $300 million buying two Chilean copper mines from Anglo American Plc after acquiring Talvivaara Mining Co.'s nickel operation in Finland.
Aggressive M&A
PE funds "haven't come in on quite as big deals as the market expected but there's no reason why we wouldn't see that this year," Lee Downham, global mining transaction chief at Ernst & Young LLP in London, said by phone. "The conditions are moving in their favor and therefore, given that capital is still there sitting in those private-capital funds, I can see the deals happening this year."
The value of completed transactions across mining and steel fell to about $54 billion last year, from $98 billion the year before and as high as $224 billion in 2006, according to data compiled by Bloomberg.
"There are companies that are trying to sell assets and I think there will be more and better assets for sale in the near future," Chris LaFemina, a mining analyst at Jefferies LLC, said by phone. "It's really a function of the sellers and the buyers coming to an agreement on what the right price should be but I think we are very close to that point and consolidation is coming. I think over the six months you see further weakness and you'll see more aggressive M&A."
Before it's here, it's on the Bloomberg Terminal.
LEARN MORE