Portugal-Germany Yield Spread Widens to Most Since 2014: Chart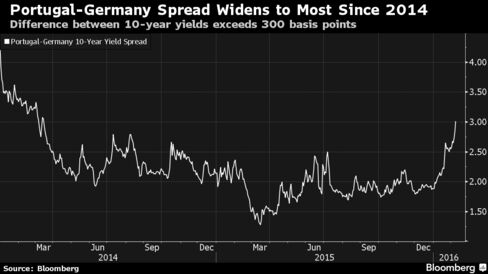 Portuguese 10-year bonds tumbled Monday, pushing the yield difference with Germany above 300 basis points for the first time since 2014. The European Commission on Friday told Portugal to adopt measures to ensure its 2016 budget complies with the provisions of the European Union's stability and growth pact, highlighting the challenge Socialist Prime Minister Antonio Costa faces in juggling external demands for continued fiscal discipline with pledges at home to ease spending cuts. Still, the spread remains a fraction of the record high of about 1,650 basis points reached at the height of the euro region's debt crisis in 2012.
Before it's here, it's on the Bloomberg Terminal.
LEARN MORE