Morgan Stanley Says U.S. Investment-Grade Bonds `Rarely Cheaper'
One of `few attractively valued' opportunities in the market

Bank warns credit cycle has turned and defaults will rise
The credit cycle has turned and defaults will rise over multi-year period, according to Morgan Stanley. The good news? North American investment-grade credits are showing "rarely cheaper" valuations.
Investment-grade bonds "could become one of the few attractively valued, lower-beta opportunities within fixed income," Morgan Stanley analysts including Adam Richmond and Vishwas Patkar wrote in a report on Monday.
Investors seeking a strong risk-reward ratio should consider longer duration BBB rated bonds and those sold by non-financial companies, the analysts wrote.
A combination of higher U.S. interest rates rates and weak domestic economic growth isn't good for credit markets, the analysts wrote. However, the fact that companies suffering from lower earnings will likely seek to reduce leverage, coupled with stronger investor demand for higher-quality bonds, can be positive for investment-grade debt.
The extra yield investors demand to hold U.S. non-speculative grade corporate bonds over Treasuries, or spread, has widened 67 basis points in the past year to 209 basis points last week, the highest since 2012, according to data compiled by Bloomberg.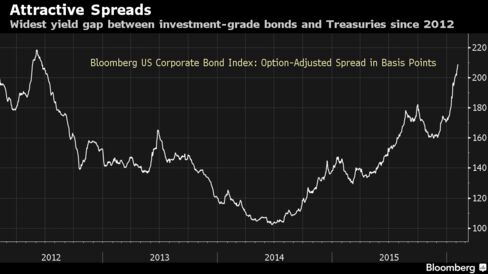 The yield on U.S. companies' bonds rated BBB -- two steps above junk -- climbed to a four-year high at 4.49 percent on Jan. 22, a Bank of America Merrill Lynch index showed.
The risk premium on the Markit CDX North America Investment Grade Index, a credit-default swaps benchmark tied to the debt of 125 investment-grade companies, jumped to a four-year high on Monday as signs of stress in global financial markets gathered steam. A similar measure for borrowers in Europe jumped to the highest level since June 2013.
"Credit risks have clearly risen, but given current valuations, many of these risks are already in the price," the analysts said. "With investment-grade valuations now at recessionary levels, risk and reward over the next year looks attractive."
Before it's here, it's on the Bloomberg Terminal.
LEARN MORE