HSBC Leads Banks Split Over Surprises Lurking in Riksbank Policy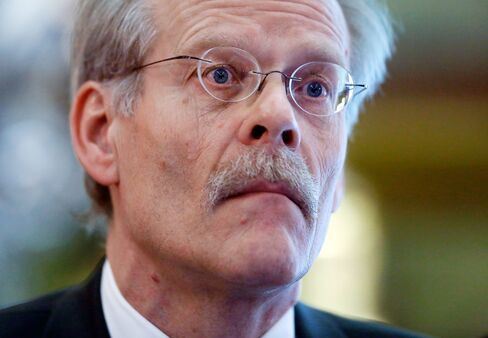 The central bank that has topped global transparency rankings for several years in a row is proving uncannily difficult to read.
Of the 17 economists surveyed by Bloomberg, eight predict the Swedish Riksbank will keep its repo rate at minus 0.35 percent this week. The rest see a rate cut to minus 0.45 percent, or even minus 0.5 percent.
"It's going to be a close call," said James Pomeroy, an economist at HSBC Holdings Plc. in London. The decision is due to be announced on Thursday at 9:30 a.m. in Stockholm.
Economists disagree over whether to be guided by accelerating economic growth and an overheated housing market or, whether persistent disinflation will weigh heavier on policy makers' deliberations. Adding to the mix, the bank has said it's ready to intervene in currency markets to ensure a strong krona doesn't undermine its efforts to reach a 2 percent inflation target.
"It all comes down to which side of the fence they sit on," Pomeroy said. "But if you look at how fast the Swedish economy is growing, house price growth and credit growth, it's clear that this country does not need lower policy. It just creates risks."
At Danske Bank, the view is that policy makers have little choice but to cut rates further if they're to have any hope of steering import prices higher and reviving inflation.
"They must cut to keep the krona under wraps," said Michael Grahn, an analyst at Danske in Stockholm. Grahn expects the Riksbank to announce this spring that it will extend its quantitative easing program beyond June, while direct currency market interventions remain an option, he said.
The Riksbank, famously accused by Paul Krugman of indulging in "sadomonetarism," has faced a polarized economy for years now. The pace of household credit growth has triggered warnings from the financial regulator and even commercial banks. Economic growth rates well in excess of 3 percent on an annual basis would also support tighter monetary policy. But with underlying inflation below the bank's target since early 2011, the Riksbank has now failed to live up to its price mandate for about half a decade.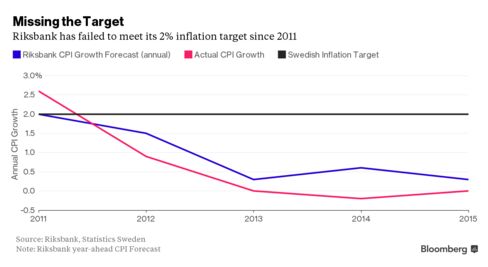 And with the European Central Bank signaling more stimulus may be injected into the euro zone, pressure is mounting on the Riksbank to keep pace.
According to Danske's Grahn, the prospect of more measures from the ECB makes it "very important" that Riksbank Governor Stefan Ingves doesn't just cut the benchmark rate this week, but vows to keep it there for the next two years to keep the krona in check.
"We're seeing lower raw material prices, increased uncertainty in China and generally some weak indications from emerging markets and the U.S.," said Knut Hallberg, an analyst at Swedbank ABin Stockholm.
But the last few years should have shown the Riksbank that more easing won't have the desired effect, according HSBC's Pomeroy. What's more, "they're quite constrained on the amount of QE they can do just because they already own a fair share of a pretty illiquid market," he said.
Instead of a rate cut, HSBC sees a "good chance" that the Riksbank will opt for currency interventions. "That seems to be their best policy option because by doing so you don't necessarily increase financial stability risks in the same way you would by lowering the policy rate any further."
The Riksbank's main problem may be that it's trying to steer forces that are ultimately beyond its control.
"What the Riksbank is doing won't really have any big effect on inflation," Grahn at Danske said. "They're, in a way, trapped."
Before it's here, it's on the Bloomberg Terminal.
LEARN MORE