Groundhog Day Becoming Reality in Pennsylvania Budget Stalemate
Democratic governor, Republican lawmakers in standoff

Missing budget has wreaked higher costs and downgrades
Pennsylvania Governor Tom Wolf on Tuesday will present his next annual budget, even though the state's gone seven months without one.
Wolf, a Democrat who took office in January 2015, and Republicans who control the legislature are mired in the longest stalemate in 45 years over how to spend taxpayers' money. Wolf wants more funding for schools, paid for with a record tax increase. Republicans have chafed, calling for changes to workers' benefits to curb the growing liabilities in the state's pension funds. The outcome: no budget for the year that started in July.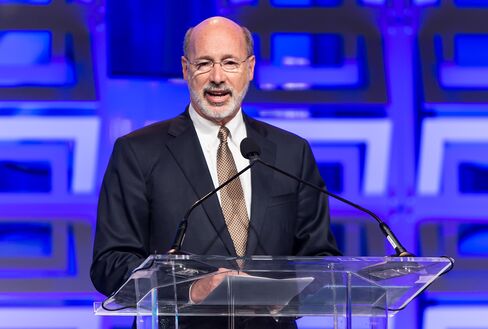 As a consequence, schools have taken out loans to keep classrooms open, credit-rating companies have cut or withdrawn their assessments and investors are demanding higher yields to hold Pennsylvania $10.9 billion of bonds instead of other municipal debt. Wolf is expected to repeat his push for more education dollars in the face of Republican resistance -- fitting for a state that inspired the movie "Groundhog Day," whose protagonist relives the same day over and over until he gets it right.
"I can't get myself excited about next year's budget when there is no budget for this year," said Tamara Lowin, director of research at Rye Brook, New York-based Belle Haven Investments, which oversees $3.9 billion of municipal debt. "I'm surprised we haven't had more downgrades."
Pennsylvania is the only state besides Illinois operating without a budget, though the government's kept running and debt service is still being paid. Wolf in December relieved some of the strain on school districts by releasing about half a year's aid through a partial veto of a stop-gap budget passed by the legislature.
Other financial impacts from the impasse haven't been reversed. Moody's Investors Service since October has had a negative outlook on Pennsylvania's credit rating, which is the first step toward lowering it. Standard & Poor's has pulled its ranking of school debt sold through a state program. And because of the spending dispute, Moody's has already downgraded three community colleges and has a negative outlook on four others.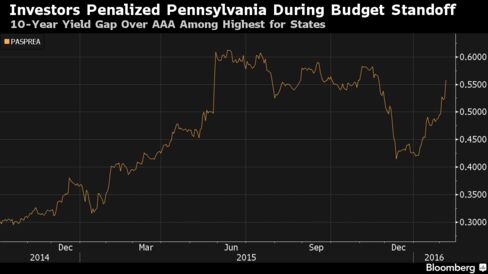 The fiscal strain has led investors to demand higher yields on Pennsylvania debt relative to benchmark securities. The state's 10-year bonds yield about 0.53 percentage point more than top-rated munis, up from as little as 0.32 percentage point in January 2015. Only Illinois and New Jersey pay more, according to data on 20 states tracked by Bloomberg.
As the standoff persists, there's more of a chance the state will be downgraded and schools and cities saddled with higher borrowing costs, said Lowin, the analyst, and Alan Schankel, a managing director at Janney Montgomery Scott in Philadelphia. If Moody's cuts the state's Aa3 rating, Pennsylvania would have the third-lowest credit rank among U.S. states after Illinois and New Jersey. S&P and Fitch Ratings have stable outlooks on Pennsylvania, which both companies cut in 2014 to the fourth-highest grade.
The state's leaders agree it doesn't look good. They just blame the other side. The delay is the longest since the 1971 budget, which was 248 days late, according to Temple University's Institute for Public Affairs.
The outlook isn't helping. Pennsylvania is facing a $1.86 billion deficit in the year that begins in July, according to an analysis from the state's Independent Fiscal Office. The tab from retirement obligations is outpacing the state's resources, with unfunded liabilities growing at an average annual rate at 18 percent, about eight times faster than its revenue, Moody's said in a Feb. 4 report.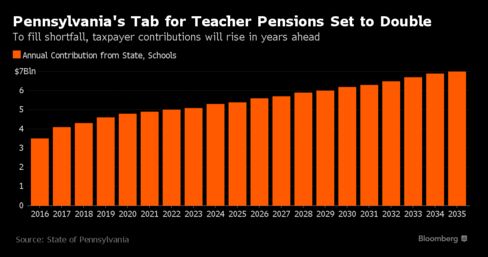 As pensions consume a greater share of the state's dollars, Republicans have pushed for a measure that would move new employees into cheaper retirement plans based partly on how much workers contribute, instead of the fixed annual payments workers are now guaranteed.
"We can't continue to put money in schools without addressing the changes that are needed for the long-term relief for schools, which is pension reform," said Jennifer Kocher, a spokeswoman for Senate Republicans. "We cannot continue to put water into a leaking bucket."
Wolf is willing to consider retirement system changes if Republicans agree to "new recurring revenue" that would make the budget "honestly balanced," said Jeff Sheridan, a spokesman for Wolf. Last year, Wolf proposed a new tax on natural-gas drilling, the state's first sales-levy increase in almost a half-century and lifting the income tax to a record.
"In all likelihood, we're going to be working on two budgets at once," Sheridan said. "But the fact remains is that we have to fix our deficits and we have to fund education. And those are the two top priorities for the governor."
Investors and municipal-bond analysts are looking for signs of a compromise.
"His ability to push for the changes or the programs that he believes in has been reduced by the gridlock so far, just like we're seeing at the national level," Schankel said. "This reflects poorly on their willingness to take the measures they have to take to right their ship."
Before it's here, it's on the Bloomberg Terminal.
LEARN MORE