Europe's Bonds Split With Portugal's Tumbling Amid QE Skepticism
Austrian, Finnish, German two-year yields drop to records

Higher-rated government debt has outperformed this year
As risks in the euro area mount, investors are looking to Mario Draghi with new skepticism.
Portuguese government bonds tumbled, pushing the 10-year yield to the highest since 2014, amid a selloff in the region's higher debt- and deficit nations. Investors seeking the safest government securities pushed the yield on Germany's 10-year bunds to the lowest since April. The yield difference, or spread, between Italian and Spanish 10-year bonds versus benchmark German bunds widened by the most since June.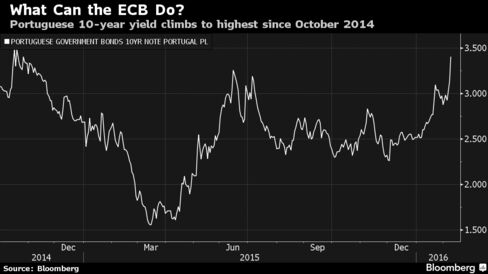 The highest-rated sovereign debt has outperformed this year as falling oil prices and a selloff in global equity markets fueled concern that economic growth is slowing. That's being compounded in the euro area by a surge in bank-credit risk, a stalled Greek bailout review and the potential for an easing of austerity in Portugal. While the European Central Bank has said it will review its policy stance next month, investors are wary before the March 10 meeting that any extension to stimulus may be limited.
"Basically QE effects on Portuguese bond yields were undone," said Gianluca Ziglio, a strategist at Sunrise Brokers LLP in London. "Under the surface of the sea, problems are still there. There's no safe harbor in the periphery and people are becoming increasingly skeptical about what ECB can deliver in March and really achieve."
Portugal's 10-year bond yield jumped 25 basis points, or 0.25 percentage point, to 3.38 percent at the 5 p.m. close in London, after touching 3.42 percent, the highest since October 2014. The 2.875 percent security due in July 2026 fell 2.15, or 21.50 euros per 1,000-euro ($1,117) face amount, to 95.595. That helped push the yield premium over similar-maturity German bunds to as much as 319 basis points, the widest spread since March 2014.
The divergence between the bonds of Europe's so-called core and peripheral nations signals that investors are becoming less confident in the ECB's ability to mitigate the impact of country-specific risk as global growth slows.
Even so, Portuguese 10-year yields remain at less than a fifth of the 18 percent levels seen before ECB President Mario Draghi's pledge in 2012 to do "whatever it takes" to save the euro.
'Risk-off Mood'
Germany's 10-year bund yield fell eight basis points to 0.22 percent, having touched 0.21 percent, the lowest since April 29. The nation's two-year note yield fell to the lowest on record, along with that on similar-maturity Austrian, Dutch, Finnish and French securities. The Stoxx Europe 600 Index of shares dropped for a sixth day, sliding 3.5 percent.
"It's purely a risk-off mood that's driving the market, with equities pushing lower and core European government bonds moving higher," said Orlando Green, a fixed-income strategist at Credit Agricole SA's corporate and investment-banking unit in London. "There's a vacuum in terms of central-bank action."
The yield spread between Italy's 10-year bonds and German bunds increased 20 basis points to 146 basis points, and reached 150, the widest since July. The equivalent Spanish yield gap to bunds expanded to as much as 157 basis points, also the most since July.
Portuguese bonds handed investors a loss of 2.2 percent this year through Feb. 5, one of just three of the sovereign-debt markets tracked by Bloomberg World Bond Indexes to post declines. German securities returned 2.8 percent in the same period.
Before it's here, it's on the Bloomberg Terminal.
LEARN MORE