Taiwan Quake Toll Climbs to 26 as Rescuers Search Rubble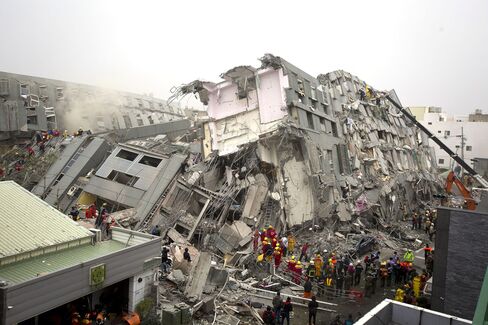 More than 120 still missing after 6.4-magnitude temblor

Apple supplier TSMC sees little change to quarterly shipments
A strong earthquake rocked a region of Taiwan that's a hub for chipmaking suppliers to the likes of Apple Inc. and Qualcomm Inc., killing at least 26 people and trapping hundreds in collapsed buildings.
More than 120 people were still missing after 37 hours of searching a residential tower, according to the National Fire Agency. While manufacturers' preliminary assessments showed factory damage in the area was minimal, the temblor halted water services to about 400,000 households, cut power in the cities of Tainan and Kaohsiung, and knocked the nation's bullet-train system offline.
The 6.4-magnitude earthquake struck an area in the island's southwest at 3:57 a.m. local time Saturday and came at the start of the Lunar New Year holiday, a time when many people are traveling. The fire agency said more than 516 people were injured when nine buildings, including the 17-story residential tower, buckled.
Taiwan President Ma Ying-Jeou canceled his new year eve speech and convened an emergency meeting on Sunday. "We pray for the survivors, and grieve for the deceased," Ma said in a live broadcast on a government website. "We must not slow down on rescue efforts in the final phase of the first crucial 72 hours."
Tainan City Mayor Lai Ching-Te said earlier that about 103 people who live in the residential tower were buried deep underneath the rubble as the buildings collapsed on each other, according to a statement on the city's website. About 100 people were still in hospital and 103 were staying in two shelters as of Sunday afternoon, according to the fire agency and the Tainan City authorities.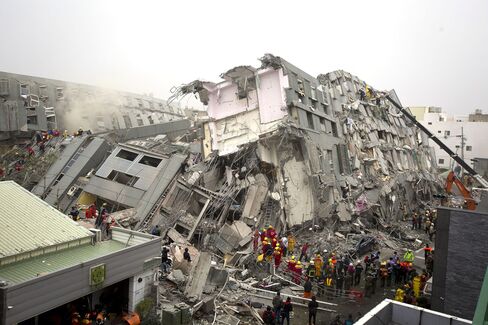 Local television and United Daily News footage showed buildings tumbled across a busy road, cars buried, exposed steel amid the mangled concrete structures, and rescuers extracting women and babies from the ruins.
The U.S., Japan and mainland China offered assistance, according to a statement from the presidential office.
Taiwan Semiconductor Manufacturing Co. said in a statement Saturday that it doesn't expect first-quarter wafer shipments to be affected by more than 1 percent. The maker of chips for Apple is assessing damage to products that were in the manufacturing process at plants in Tainan, though its initial estimate is that more than 95 percent of its tools can be fully restored to normal in two to three days.
TSMC will soon notify affected customers and make up for any lost production as soon as possible, it said. There were no serious injuries or damage at its plants in Tainan.
Liquid-crystal display maker Innolux Corp. said its eight factories in Tainan shut down automatically after the quake and that production is being resumed gradually. The company said its four factories in Hsinchu in the north of the island are operating normally.
United Microelectronics Corp. Chief Financial Officer Liu Chitung said by phone that there were no injuries or damage at its four chip factories in Tainan, though machines will need recalibrating. UMC will evaluate the impact to operations, Liu said.
Supply Disruption
"Supply chain disruption risk is unlikely as most of the factories should be able to be back to normal in a couple of days, and it's off season in the technology industry," Vincent Chen, president of Yuanta Investment Consulting, said by phone. "It should be manageable with inventories."
Corning Inc., a supplier of glass substrate for panel makers with one factory in Tainan, didn't suffer any damage to its facility and it is examining its operation lines, Corning Display Technologies Taiwan President Daniel Tseng said in a text message.
China Steel Corp. said its manufacturing lines in Kaohsiung and a unit in central Taiwan's Taichung resumed normal operations before 7 a.m. local time. All employees are safe, the company said in an e-mail.
The quake damaged bullet-train systems in the southern part of the island. Taiwan High Speed Rail Corp said full service is to resume on Sunday 7 p.m. according to a statement on its website.
Tectonic Plates
Taiwan is prone to quakes because it's near the convergence of two tectonic plates -- the Philippine Sea Plate and Eurasia Plate. There have been about 79 quakes greater than 4.5 in the area since the beginning of last year, according to the U.S. Geological Survey.
The epicenter of Saturday's temblor was in Kaohsiung, about 300 kilometers (185 miles) southwest of Taipei, at a depth of 16.7 kilometers, according to Taiwan's Central Weather Bureau website. There were at least 40 aftershocks.
A 7.3-magnitude earthquake in September 1999 killed 2,474 people and injured about 11,000, causing estimated visible property damage of NT$341.2 billion ($10.3 billion), the government said at the time.
Before it's here, it's on the Bloomberg Terminal.
LEARN MORE