Growth rises to 4.2% this year from 4% in 2015, BofA says

Forecast for 0.5% Russia GDP slump better than consensus
Growth in emerging-market economies is getting a bit of a tailwind this year from a surprising source: Russia.
While Russia will still be in recession in 2016, the pace of the contraction in its gross domestic product will slow to 0.5 percent from 3.7 percent, according to Alberto Ades, head of global economic research at Bank of America Corp. That will be less of a drag on overall growth in developing nations, which he sees expanding 4.2 percent, after 4 percent growth in 2015.
"Russian gross domestic product is a relatively big part of the emerging-markets GDP, and just by standing relatively still and not plunging too much, Russia helps developing nations in general because it doesn't stand in the way of their growth," Ades said by phone from New York last week. "We are not expecting any miracles in Russia this year, but the fact that things won't be as bad as before is not a bad sign."
The slump in Russia shaved about 15 basis points off of overall emerging-market GDP growth in 2015. This year, that drag is reduced to 2 basis points, one of the biggest changes among 45 developing economies tracked by Bank of America, Ades said. Russia's $1.2 trillion economy makes up about 4 percent of emerging markets' $28-trillion of GDP, he said.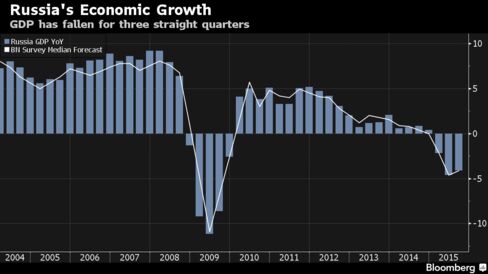 Russia is struggling to recover from a 3.7 percent GDP decline last year. Slumping crude prices and sanctions linked to the Ukraine conflict have stifled the world's largest energy exporter's economy, prompting an exodus of foreign capital and damping consumer demand. Plunging oil prices that drove the ruble to record lows in January pushed firms from Societe Generale SA to Credit Suisse Group AG to Capital Economics to cut their projections for Russia's economy.
The median estimate of 38 economists surveyed by Bloomberg is for a 0.8 percent GDP contraction in Russia in 2016. As recently as December, the forecast was for growth to resume in the third quarter.
Barclays Plc. also sees an increase in emerging-market growth in 2016. Developing economies will expand an average 4.3 percent in 2016, compared with 4.1 percent last year, as contractions in Russia, Brazil and Venezuela ease, Daniel Hewitt, a senior emerging-markets economist at Barclays, said.
The bank's forecast for Russia, however, has deteriorated in recent months. Hewitt last week forecast a 1 percent decline in 2016 GDP. His estimate in September had been for a 0.7 percent drop. The outlook worsened with the price of oil, which is selling for less than a third of its five-year average price. Barclays sees crude trading at an average of $37 a barrel in 2016. That compares with Bank of America's forecast of $46.
Recession Probability
"Russia was doing so poorly in 2015 that the 1 percent slowdown in 2016 could be seen as an improvement," Hewitt said. "Russia is so dependent on oil, and oil has not been showing sings of a rebound. When the outlook on oil is bleak, the outlook on Russia is also not too bright."
After three straight months of declines, the probability of Russia being in a recession in the next 12 months increased to 80 percent, according to economists surveyed by Bloomberg last month, up from 65 percent a month earlier.
Russian inflation slowed to 9.8 percent last month from 12.9 percent in December, the year-on-year rate declining for a fifth month to the lowest since November 2014, government data showed last week. The benchmark Micex index trades at 6 times projected 12-month earnings, the cheapest among emerging-market benchmarks.
"We have economic growth that's been less than stellar, inflation running a little bit ahead of itself, but a lot of that got reflected in the stock prices quite rapidly along with some additional hit from the various sanctions that were put on," Deborah Medenica, the head of emerging markets at Fred Alger Management Inc., which manages about $22.4 billion, said by phone from New York last week.
Medenica turned overweight on Russia about nine months ago and likes Luxoft Holdings Inc., Magnit PJSC and X5 Retail Group NV. "If inflation is not as bad as the market's anticipating, there's room for the central bank to do something on rates, which would maybe open up a little space in the economy," she said.
Before it's here, it's on the Bloomberg Terminal.
LEARN MORE