SNB's FX Reserves Increase to Record Amid Depreciating Franc
Switzerland's foreign currency reserves increased 3 percent to an all-time high in January, boosted by the franc dropping against the euro and the dollar.
The Swiss National Bank had foreign currency reserves worth 575.4 billion francs ($580 billion) at the end of last month, data published on its website on Friday showed. That's up from a revised 559.5 francs at the end of December.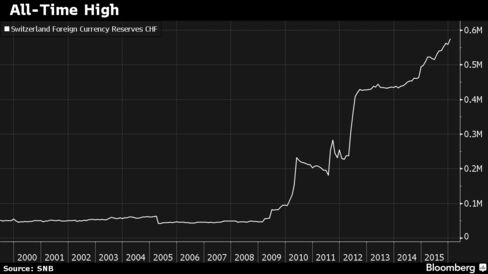 The franc hit its weakest against the euro in more than a year earlier this week, stoking speculation policy makers at the SNB have recently made good on their pledge to intervene in currency markets.
SNB spokesman Walter Meier declined to comment on the reserve data.
The franc dropped almost two percent against the euro in January and by roughly the same measure against the dollar. Those two currencies made up almost three quarters of the SNB's foreign-currency portfolio as of the end of the year.
SNB Policy
SNB officials have for years been grappling with the knock-on effects of policy in the euro area, which at times has caused the euro to weaken against the franc. A strong currency is undesirable for Switzerland because it leads to a tightening of monetary conditions and makes exports more expensive.
Since giving up its ceiling on the franc of 1.20 per euro a year ago, the SNB has pursued a twin-pillar strategy of negative interest rates and a pledge to wage interventions.
SNB President Thomas Jordan declined to comment when asked in Geneva earlier this week about any recent interventions. He did say, however, that the central bank was willing to continue waging such a policy, that the franc remained overvalued, and that the SNB was keeping close tabs on goings on at the European Central Bank in Frankfurt.
ECB President Mario Draghi has said the Governing Council will review its stimulus in March amid signs that falling oil prices will push the euro region's inflation rate back to zero. The Bank of Japan has already responded to the deteriorating outlook with negative interest rates and investors see a slower pace of tightening by the Federal Reserve.
Before it's here, it's on the Bloomberg Terminal.
LEARN MORE