Hess Drops on Share Sale Following First Loss in 13 Years
Analysts had seen $1.1 billion of cash burn by company in 2016

Hess reported first annual loss since 2002 in January
Hess Corp., the oil producer that reported its first annual loss in 13 years, fell the most in more than seven years after announcing it's selling $1.43 billion in stock.
The offer includes 25 million common shares priced at $39 each, plus 10 million depositary shares at $50 apiece, New York-based Hess said in a statement Friday. That's a discount of $4.47 on the stock's closing price Thursday, and less than half the average price of about $84 a share the company paid in a 2013-2014 buyback. Hess closed 13 percent lower at $38.02 in New York, the biggest one-day drop since December 2008.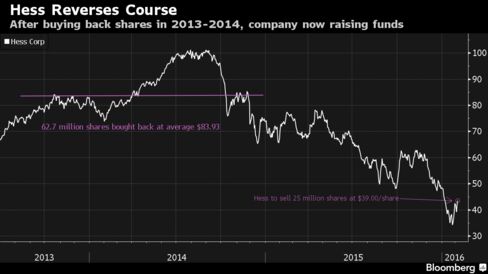 The funds will be used to cover long-term capital needs and other corporate purposes, Hess said. The company announced a $2.5 billion capital spending plan Jan. 27. Hess was expected to burn $1.1 billion of cash this year, according to the average of eight analyst estimates compiled by Bloomberg.
"We view this offering as a proactive capital raise that further strengthens our already strong balance sheet," Chief Executive Officer John Hess said in prepared remarks through a spokesman. "It also provides our company the financial flexibility in a lower-for-longer price environment to continue to invest in our long-term growth options."
Last month, Hess posted a $3.06 billion loss for 2015 after crude fell 30 percent last year, crimping revenue and forcing it to reduce estimates of proved oil and gas reserves. West Texas Intermediate, the U.S. benchmark, has declined 17 percent this year to about $31 a barrel.
Goldman Sachs Group Inc., JPMorgan Chase & Co. and Morgan Stanley are managing the sale, expected to close Feb. 10, according to the statement. They have the option to buy 3.75 million additional shares of common stock and 1.5 million additional depositary shares within 30 days. The depositary shares represent stakes in mandatory convertible stock.
Before it's here, it's on the Bloomberg Terminal.
LEARN MORE