Grain Traders Wary of Selling to Egypt as Tender Gets Few Offers
Traders `prefer to wait to see what will happen,' Soliman says

Egypt had rejected a French cargo of wheat on fungus concerns
Grain traders were reluctant to sell wheat in Egypt's tender, a sign of lingering uncertainty after the government gave conflicting statements over its shipping requirements.
Four traders offered wheat in the tender on Friday at an average price of $190.65 a metric ton, according to two people involved who asked not to be identified because the information is private. Previously, the country usually received between 10 and 20 offers. Egypt, the world's largest wheat importer, canceled a tender earlier this week after traders refused to offer any grain.
"Traders would prefer to wait to see what will happen," Hesham Soliman, the president of Alexandria-based Medstar for Trading, said by phone Friday.
Egypt is struggling to get traders to participate in tenders after rejecting some cargoes because they were contaminated with ergot, a potentially toxic fungus. The Agriculture Ministry said last month it would turn away grain containing any ergot, even as the country's state-run buyer said it would accept levels of 0.05 percent, in line with international standards.
The Agriculture Ministry on Wednesday reversed the zero-tolerance policy, saying it would accept shipments with 0.05 percent ergot. Still, the low interest in today's tender shows traders remain cautious.
To compensate for the risk, prices increased. The offers were more expensive than spot prices for French grain in Rouen, a regional benchmark, according to figures from FranceAgriMer.
The cheapest bid was a French cargo from Soufflet at $186.64 excluding freight, according to people familiar. That's $12.04 above the free-on-board price in Rouen, the biggest premium since the start of the season, Bloomberg calculations show.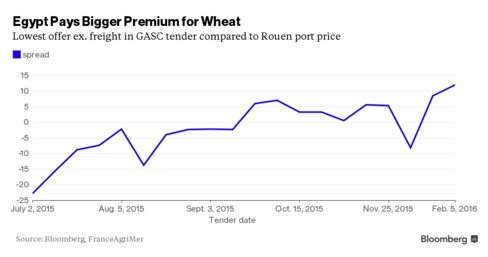 Egypt spends billions of dollars on wheat every year to subsidize bread for its citizens, and its purchases are closely followed by international grain markets. At least one rejected cargo was said to be a shipment of French wheat sold by Bunge Ltd. Prices of French grain have tumbled in recent weeks amid concern about Egyptian demand, with futures in Paris reaching the lowest since September 2014.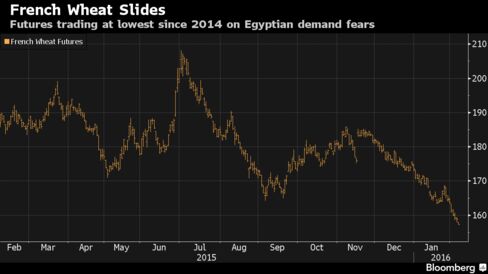 Before it's here, it's on the Bloomberg Terminal.
LEARN MORE