Consumer Borrowing in U.S. Climbed at Faster Pace in December
Consumer borrowing rose in December by the most in three months, led by faster growth in non-revolving loans for motor vehicle purchases and continuing education.
The $21.3 billion increase in total credit followed a $14 billion gain in the previous month, Federal Reserve figures showed Friday. Revolving debt also rose.
Households may be more willing to carry larger credit-card balances and take out car loans amid persistent job growth that is showing signs of fueling bigger wage gains. For all of last year, consumer credit outstanding rose 6.9 percent.
Non-revolving loans, which include funding for college tuition and auto purchases, increased $15.4 billion in December, twice as much as the previous month's $7.7 billion gain.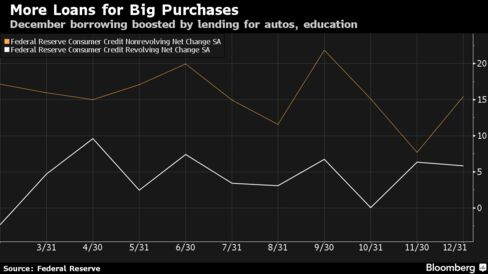 In the fourth quarter, student loans climbed $9.5 billion and lending for auto purchases increased $8.9 billion.
Revolving debt, which includes credit cards, climbed $5.8 billion in December after a $6.4 billion gain in the prior month, the data showed.
The median forecast of 30 economists surveyed by Bloomberg called for a $16 billion increase in total borrowing, with estimates ranging from gains of $10 billion to $25 billion.
The Fed's consumer credit report doesn't track debt secured by real estate, such as home equity lines of credit and home mortgages.
Before it's here, it's on the Bloomberg Terminal.
LEARN MORE