Can `Voice of Holland' De Mol Become Oracle of Amsterdam?: Chart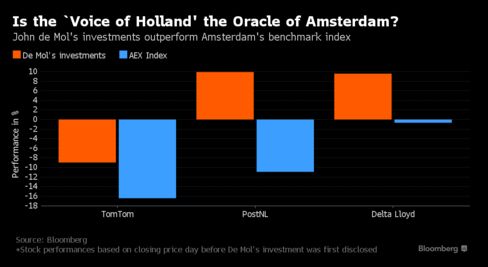 Media magnate and billionaire John de Mol has recently disclosed stakes in Dutch stocks, first with navigation-device maker TomTom NV in August, followed by 5 percent of mail-delivery company PostNL NV in November. This week, he disclosed a 3 percent holding in Delta Lloyd NV and so far, De Mol's picks have outperformed the benchmark AEX Index since his purchase. Can the man who built his fortune with hits including "The Voice of Holland" and "Big Brother" maintain his market record?
Before it's here, it's on the Bloomberg Terminal.
LEARN MORE