Under Armour's Most Valuable Players
Bets on young, unproven athletes are paying off.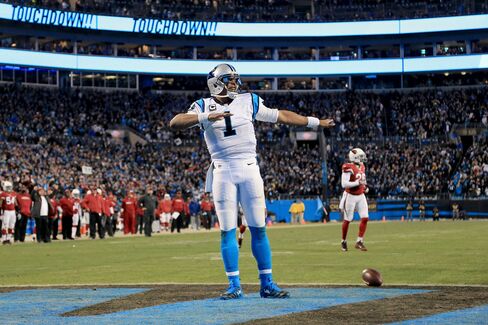 When Under Armour re-signed an endorsement deal with NFL quarterback Cam Newton of the Carolina Panthers before the current season, it looked like a risky investment. The former Heisman Trophy winner wasn't considered a top NFL player. As he heads into the Super Bowl on Feb. 7, Newton is the favorite for the league's MVP, according to oddsmakers who also have the Panthers winning the game. "Investing in Cam Newton before this season is like buying Apple before they announced the iPhone," says Scott Becher, managing director of Z Sports & Entertainment, an advertising agency.
Under Armour's roster now boasts three of the best players and biggest stars in the NFL, the NBA, and MLB: Newton, Stephen Curry of the Golden State Warriors, and Washington Nationals right fielder Bryce Harper. Like Newton, Curry wasn't a sure thing. The company picked him up after Nike decided not to re-sign him in 2013 in part because he was injury-prone. Now he's pro basketball's reigning MVP.
The company's eye for talent isn't confined to team sports. Under Armour signed golfer Jordan Spieth, a relative unknown, right after he turned pro in 2013. Now he's the No. 1-ranked player in the world.
At about an eighth the size of Nike, the largest sports company in the world, Under Armour can't spend as lavishly on athletes as its larger competitor. Instead, it bets on young athletes with promise, hoping they become superstars down the road. "We look for maturity, mental toughness, and desire to be great—those things comes first—and then the talent," says Ryan Kuehl, Under Armour's vice president for sports marketing and a former NFL lineman.
Of course, Nike signs kids, too—but it can afford to gamble on a lot more of them. "There's some good fortune there, but they've done their homework," Matt Delzell, managing director of ad agency the Marketing Arm, says of Under Armour. "It's very difficult to compete with Nike, but if you are, you have to be very smart."
Under Armour has also looked beyond sports. In 2014 the company struck deals with ballerina Misty Copeland and supermodel Gisele Bündchen. In January, actor Dwayne "The Rock" Johnson became the latest celebrity to work with the company. "They've been disruptive, and this is another example," says Matt Powell, an analyst at research firm NPD Group.
Under Armour has maintained robust growth. Sales grew 29 percent in 2015, to $4 billion, helped by a line of $130 Curry sneakers that quickly sold out. "Newton's success is great for the brand, but it's not a catalyst for sales the way Curry and Spieth are," says Chen Grazutis, an apparel and footwear analyst for Bloomberg Intelligence. It's easier to design casual wear off of golf and basketball, he says. "Spieth looked great in a blue UA shirt when he won the 2015 Masters," Grazutis says—so good that the shirt sold out a few days later.
—With Scott Soshnick
The bottom line: Smart endorsement deals and luck have landed Under Armour three of the top players in the NFL, the NBA, and MLB.
Before it's here, it's on the Bloomberg Terminal.
LEARN MORE