The Real Life Storage Wars
Newcomers challenge the industry's haul-it-yourself giants.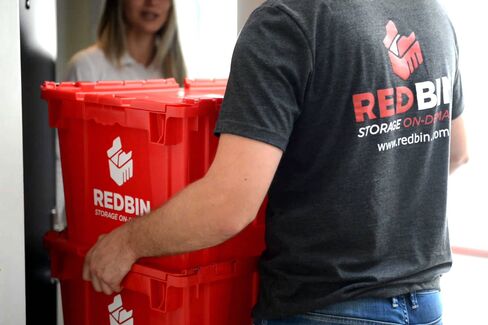 A warehouse worker at storage startup RedBin spent 75 minutes on a recent morning piloting a van from company headquarters on the Brooklyn waterfront to an apartment building in Harlem, where he dropped off two empty plastic boxes. Then he drove back to Brooklyn. Four days later, RedBin dispatched another van to retrieve the containers, now full, which the company will store for $5 per box per month.
It may not seem like a speedy path to riches, but founder Tom Anderson believes his business is destined to prosper for a simple reason: U.S. consumers are a lot better at acquiring than they are at letting go. A serial entrepreneur whose last company managed logistics for U.S. military contractors shipping cargo to Afghanistan, Anderson launched RedBin in September. He also owns a self-storage center in Oakdale, Long Island, which has allowed him to study the behavior of the American pack rat up close.
To Anderson, the on-demand model seemed like a good way to reach customers who live in cramped apartments that are far from traditional storage facilities, which are more abundant outside city centers. RedBin doesn't charge for the first four pickups and deliveries, and customers can summon their bins with 24 hours' notice using the company's smartphone app. "We're building a bridge between a person's need to see their stuff and their need to keep it in storage," he says.
In New York, RedBin is competing with on-demand storage companies including Box Butler, a subsidiary of Iron Mountain; MakeSpace, a venture-backed startup that also operates in Washington and Chicago; and Clutter, which raised $9 million in October from Sequoia Capital.
Similar services have cropped up in Boston, Denver, Los Angeles, and San Francisco. There are enough players that Boxbee, a startup backed by Google Ventures, has dedicated itself to making software to help on-demand storage companies manage warehouses, delivery vehicles, and billing.
The startups' business models vary slightly—RedBin stores boxes that measure three cubic feet and a handful of specialty items, such as bicycles and air conditioning units, while MakeSpace, which has raised $10 million from Upfront Ventures and others, will take your piano. But all offer delivery service to entice customers who would otherwise have to do the heavy lifting themselves. "When we started looking at this industry, we understood the need for storage; we just didn't understand why the experience was so poor," says Clutter co-founder Ari Mir. So the California company hired movers to help customers pack, photograph, and transport their belongings. Sixty percent of storage customers live in 25 U.S. metropolitan areas, says Mir, and his company is focusing on those markets.
More than 50,000 self-storage facilities are in the U.S. All told, storage businesses will generate $33 billion in 2016, estimates research firm IBISWorld, up from $24 billion in 2010. "We're a very affluent society," says Ellen Faye, president of the National Association of Professional Organizers. "People buy, buy, and buy."
Because construction of storage centers flagged during the recession, demand for lockers has outstripped supply. Occupancy rates and rents are at all-time highs, according to Chuck Gordon, chief executive at SpareFoot, a website that helps people comparison shop for the best deals.
Those trends have been a boon to the newcomers, helping them stay competitive on price while they offer better service than self-storage facilities. It has also prompted some of the larger operators, including Malvern, Pa.-based CubeSmart, to experiment with on-demand.
What's not clear, says Gordon, is whether the startups are attracting a new kind of storage user or grabbing customers who would have rented space from traditional operators. "There's a to-be-determined number of regular storage customers choosing this option because it's more convenient," he says. "Does 5 percent of the market want this, or 50 percent? That's the big question."
The bottom line: Startups are trying to carve out a slice of the expanding storage industry by offering on-demand pickup and delivery.
Before it's here, it's on the Bloomberg Terminal.
LEARN MORE