Starbucks Trails Costa in Booming U.K. Coffee-Shop Market: Chart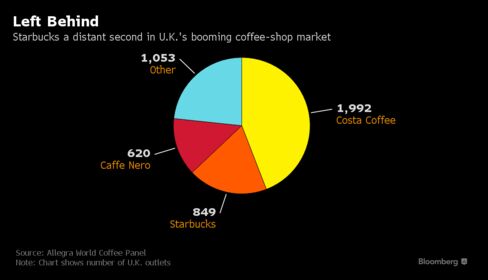 It may be the world's biggest coffee-shop chain, but in the U.K. Starbucks Corp. ranks a distant second. The Seattle-based company has less than half the number of outlets of market leader Costa Coffee, part of Whitbread Plc. Costa's 47 percent share of spending in Britain's branded coffee-shops dwarfs Starbucks' 25 percent in a market where sales rose 15 percent to 3.3 billion pounds ($4.8 billion) last year, according to Allegra World Coffee Portal.
Before it's here, it's on the Bloomberg Terminal.
LEARN MORE