MetLife Bets on Hedge Fund Rebound After Reducing Energy Wagers
CIO says insurer `sticking with the plan,' monitoring holdings

Quarterly profit suffered from private-equity, hedge funds
MetLife Inc. Chief Investment Officer Steven Goulart is betting on a recovery in the insurer's hedge-fund holdings, after scaling back energy investments as oil prices slumped.
"We're sort of sticking with the plan for now," Goulart said Thursday in a conference call discussing investments in private equity and hedge funds. "This is a portfolio that has provided strong returns for us and for our shareholders over some period of time. We expect it will continue to do so. Obviously, we're managing it and monitoring it very closely."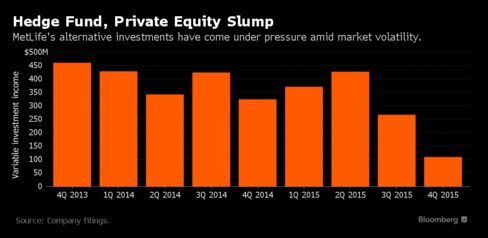 Insurers have been stung in recent quarters after pushing into alternative investments to seek better yields than available in the investment-grade bond market. MetLife said Wednesday that fourth-quarter profit declined, missing analysts' estimates, as investment results deteriorated. American International Group Inc. Chief Executive Officer Peter Hancock said last week that he was cutting some hedge-fund allocations after returns fell short of expectations over the past three or four years.
Goulart said he was "disappointed" by results in the fourth quarter, as variable investment income tumbled 66 percent to $109 million from the same period a year earlier. The New York-based insurer adjusted its alternative-investment portfolio over the latter half of 2015, reducing it by about $1 billion and focusing on stronger-performing money managers, the CIO said.
The insurer had about $7.1 billion as of Dec. 31 in a category called "other limited partnership interests," a grouping that includes leveraged buyout and hedge funds. That compares with more than $350 billion of fixed-maturity securities.
Energy Holdings
Energy-related holdings declined to less than $12 billion at the end of December from about $14 billion six months earlier as Goulart pared investments amid plunging oil prices. That portfolio, which is about 86 percent investment grade, had an unrealized net loss of $220 million at year-end, according to the CIO.
"We did take the opportunity most of last year to start reducing that portfolio," Goulart said. The remaining assets are focused on "defensive sectors" in energy, such as mid-stream refiners, he said. "So I think we're comfortable. We run it through constant stress tests just given the energy environment."
MetLife dropped 4.1 percent to $40.24 at 10:16 a.m. in New York trading. The company said Thursday it won't resume share buybacks until it has more details about how it will separate a U.S. retail operation from the rest of the insurer. CEO Steve Kandarian has said he's considering a sale, spinoff or initial public offering for the unit.
Before it's here, it's on the Bloomberg Terminal.
LEARN MORE