Investors Dump Cheapest Emerging Market on Dollar Squeeze: Chart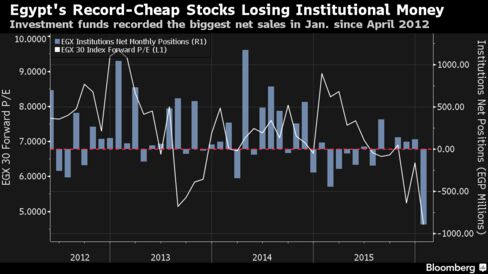 Egypt's benchmark EGX 30 Index trades at 4.6 times the estimated earnings of its members, the cheapest valuation among countries included in the MSCI Emerging Markets Index. But that's failing to retain investor interest. Institutions withdrew about 900 million Egyptian pounds ($115 million) in January, the most in almost four years. The nation is reeling under a shortage of dollars since the Arab Spring revolt in 2011, often creating a backlog of funds that some investors are unable to repatriate instantaneously.
Before it's here, it's on the Bloomberg Terminal.
LEARN MORE