EU Carbon Cuts Loose From Commodity Bellwether Crude: Chart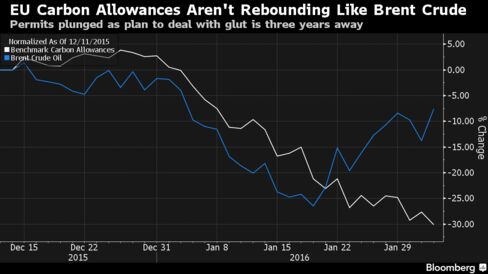 European Union carbon emission permits fail to rally with crude amid speculation the region's politicians will be slow in curbing a record glut, even after they agreed to a global climate deal in December. Lawmakers will probably focus on boosting economic growth and resolving the migrant crisis rather than reducing the oversupply of pollution rights, said Andreas Speer, a commodity analyst at Bayerische Landesbank in Munich. Carbon contracts often track Brent because the price of natural gas, which produces about half the emissions compared with coal, is linked to oil.
Before it's here, it's on the Bloomberg Terminal.
LEARN MORE