Egypt Dealers Ask Central Bank for Leeway to Ease Dollar Crunch
Foreign-exchange bureaus held meeting with central bank

Exchange bureaus say easing restrictions would support pound
Egypt's currency dealers have requested the central bank ease restrictions they say will lessen a dollar shortage gripping the country that's forced businesses and individuals to turn to the black market.
Representatives of about 25 foreign-exchange businesses in Egypt asked central bank officials at a meeting on Sunday for permission to swap other foreign currencies for dollars at banks, reviving a mechanism that was phased out in 2013, according to Mohamed El Abiad, the head of the Federation of Egyptian Chambers of Commerce's foreign-exchange division. That would boost the supply of greenbacks available to their clients since about 30 percent of cash they hold is in currencies other than dollars, he said.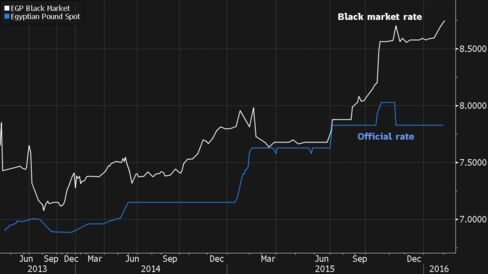 The dealers also requested that the trading range within which they can buy or sell dollars be doubled to 10 piasters from the official rate, El Abiad said in an interview. That would give them more room to trade within the legal limit for the U.S. currency, which is otherwise being sold at a 92-piaster premium in unregulated trading.
"We think these suggestions can help increase the amount of dollars available to foreign-exchange offices, which would ease the shortage and help strengthen the pound," said El Abiad. "We have businesses now with a variety of Gulf and European currencies for which they have no use and no demand. Converting those to dollars can make a difference."
Central Bank of Egypt officials weren't available to comment when contacted by Bloomberg News on Thursday.
Devaluation Pressure
Egypt has come under renewed pressure to weaken the pound as foreign investment slumps and tourism, one of its major hard-currency earners, languishes. In the past 12 months, the Egyptian exchange rate has fallen 2.5 percent against the dollar, compared with a retreat of 13 percent in a gauge tracking 20 emerging-market peers. Countries including Kazakhstan, Azerbaijan and Argentina abandoned currency pegs to the dollar last year.
The selloff eased this month as amid a slump in the dollar that's boosted appetite for riskier assets. Egypt's foreign-currency reserves, too, stabilized at $16.4 billion in the last quarter of 2015 after slumping 19 percent in the previous three months. They remain at less than half of their level before the Arab Spring.
Black Market
The dollar was going for a record-low 8.75 pounds in unregulated trading on Tuesday, according to a Bloomberg survey of six dealers, who asked not be named because unofficial currency trading is illegal. That compares with an official rate of 7.8301 per dollar, which the central bank has kept unchanged since November following three devaluations in 2015.
The meeting on Sunday was attending by roughly a quarter of Egypt's 111 registered currency traders and senior central bank officials, El Abiad said, adding he expected a response from the regulator next week.
Since taking over as central bank governor in November, Tarek Amer has sought to shore up confidence in the pound in part by paying foreign stock and bond investors the money owed to them that had been trapped in the country. He also issued rules limiting the import of goods deemed "unnecessary."
Before it's here, it's on the Bloomberg Terminal.
LEARN MORE