Credit Suisse Lost $500 Million on `Ugly Ducklings' Thiam Backs
Trading, banking units post 35% slump in combined revenue

Thiam says units will probably struggle the most in 2016
Last October, Credit Suisse Group AG Chief Executive Officer Tidjane Thiam called two of his bank's businesses the "ugly ducklings that no one likes." He's just been reminded why.
The Zurich-based lender's units that trade corporate bonds and securitized products contributed about $500 million in so-called mark-to-market losses in the fourth quarter of 2015, according to the bank's presentation to investors. That includes a $209 million loss on distressed debt and $107 million tied to leveraged-finance underwriting.
The losses, triggered by a slump in the value of inventory that Credit Suisse holds on its own balance sheet amid upheaval in global markets, show the risks that come with acting as a broker in high-yield assets. The markdowns contributed to the biggest fixed-income trading revenue decline among global investment banks and a quarterly loss for the bank that sped up Thiam's plans to overhaul the lender and meet new, tougher capital rules.
"The price of oil went down, people panicked, prices started moving very fast," Thiam told reporters on Thursday. "It's never pleasant to have losses but they are manageable," he said, adding that the bank will probably book gains when market values rebound.
Biggest Drop
The mark-to-market losses fueled a 63 percent drop in fixed-income trading revenue to $297 million in the fourth quarter. That compares with declines of 16 percent for Deutsche Bank AG and 3 percent for JPMorgan Chase & Co., according to data compiled by Bloomberg.
Total revenue at Credit Suisse's two divisions that house trading, advisory and underwriting businesses outside of Switzerland and Asia fell to a combined $1.5 billion in the quarter, down 35 percent from a year earlier. The two units had a combined pretax loss of $761 million, even without including more than $3 billion in goodwill impairments and restructuring costs.
"We view these as very poor results," Citigroup Inc.'s Andrew Coombs wrote in a note to clients. "We expect near-term profits will continue to suffer as the bank restructures."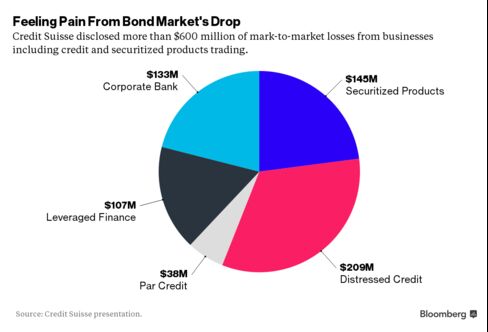 Credit Suisse shares fell 11 percent to 14.66 Swiss francs ($14.70), the lowest since 1992, in Zurich trading Thursday.
Thiam in October defended the bank's credit and securitized products units that he said are viewed negatively because they require so much capital under new rules introduced since the financial crisis. The CEO said shrinking the businesses could create more problems and that he didn't mind allocating capital to the units if they generate acceptable returns, as they did in 2014.
"You got the two ugly ducklings that nobody likes, securitized products and credits, because they generate a lot of profit, but they consume a lot of capital," Thiam told investors as he laid out his overhaul plans last October. "But personally, to generate 35% or 40% of return, I don't mind burning some capital. To burn it to generate 8% or 9%, yes, I have a problem."
Cutting Inventory
Chief Financial Officer David Mathers said Thursday that the firm would reduce inventory levels at the two units. The bank cut exposure to collateralized loan obligations, securities that bundle high-yield loans and slice them into notes of varying risk and return, by more than half from the end of September to the end of January, according to its presentation.
About $145 million of the mark-to-market losses came from the securitized products unit as the value of CLOs and some mortgage securities declined. The bank said it had "negative net revenues" across credit products, which includes U.S. distressed, high-yield, and leveraged finance products. Revenue from macro products, which include interest-rate and currency trading, increased as the U.S. Federal Reserve raised rates.
Credit Suisse is cutting total bonuses by about 11 percent, while divisions that "have underperformed like global markets" face cuts of more than 30 percent, Thiam said. The lender said Thursday it will also accelerate plans to cut 4,000 jobs and save 500 million francs a year. Thiam, who took over from Brady Dougan last year, has already warned investors that 2016 won't be a good year and said he won't be setting profit targets.
High-yield bond prices continued to fall in January, according to Bank of America Merrill Lynch indexes, as oil extended its decline and the U.S. stock market had its worst start to a year since 2008.
"From my perspective, this is only the beginning of losses at these businesses," said Enrico Racioppi, an analyst at Hammer Partners SA in Lugano, Switzerland who cut his rating on the firm to sell on Wednesday. "We're only at the beginning of February and this could get worse."
Before it's here, it's on the Bloomberg Terminal.
LEARN MORE