Apparel Shares Drop as Ralph Lauren, Kohl's Signal Weakness
Apparel investors are losing their shirts.
The Standard & Poor's Supercomposite Apparel & Accessories Index fell 3.2 percent on Thursday, its biggest decline since Nov. 13, following a bearish forecast from Ralph Lauren Corp. and weakening sales growth from Kohl's Corp., a Midwestern department-store chain. Ralph Lauren led the drop, declining 22 percent, pulling down shares of peers such as VF Corp., PVH Corp. and G-III Apparel Group Ltd.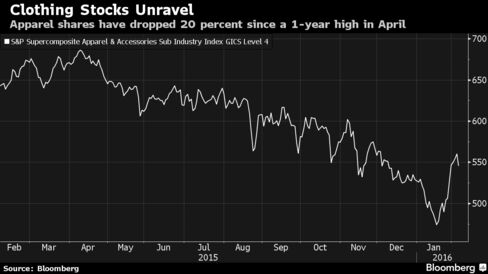 For apparel companies and the department stores that hawk their wares, little is going their way. Consumers are skipping trips to the mall to spend on services and experiences. Foreign tourists aren't making up for the falling foot traffic as a strong U.S. dollar cuts into their spending. Meanwhile, warm weather in the fall and winter curtailed demand for coats, boots and accessories, and inventories have piled up on retailers' shelves. To combat these trends, companies are continuing to rely on discounts to clear out excess items.
"We've been in a situation where people are not buying apparel -- they're not
buying stuff they don't really need," said Paul Swinand, an analyst at Morningstar Inc. "It's just been a general consumer tepidness since 2008."
Ralph Lauren said revenue will only be up about 1 percent this year, excluding the effects of currency moves. It had previously predicted growth of 3 percent to 5 percent. Kohl's, meanwhile, said same-store sales rose just 0.4 percent in the fourth quarter, missing analysts' 0.8 percent average estimate.
Intimate apparel is suffering, too. Hanesbrands Inc. said net sales in 2016 will be no more than $5.9 billion, falling short of the $6.03 billion analysts had estimated. The shares dropped as much as 18 percent to $24 in late trading after the results were announced. L Brands Inc., which owns the Victoria's Secret and Pink brands, said January comparable sales fell 2 percent, less than the low-single digits increase the retailer had forecast. The stock dropped 6.9 percent to $88.57, the biggest decline in more than four years.
The gloomy reports dragged down shares of Macy's Inc., which slipped 2.1 percent, and Nordstrom Inc., which tumbled 6.1 percent on Thursday. VF Corp., which makes Lee jeans and North Face outdoor apparel, slid 3 percent. PVH, owner of the Calvin Klein and Tommy Hilfiger brands, dropped 2.3 percent.
Before it's here, it's on the Bloomberg Terminal.
LEARN MORE