'Brexit' Campaign Deputy Head Says Campaign Coordination Is Poor
John Mills says he hopes to name high-profile spokesmen soon

But rejects suggestion Nigel Farage could represent `Leave'
John Mills, the deputy chairman of one of the campaign groups trying to get Britain out of the European Union, admitted there had been poor coordination with others on the same side and said he hoped to be able to announce high-profile campaign spokespeople soon.
Vote Leave has spent much of its time in recent months arguing with Leave.EU, a group affiliated to U.K. Independence Party leader Nigel Farage, about which should be designated the official campaign for a so-called Brexit. The official group will get more funding and the right to make television advertisements and send a government-funded mailing to every home.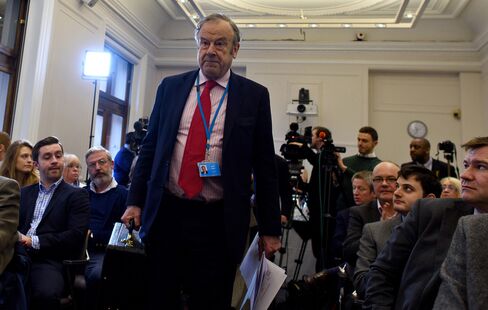 Speaking to journalists in London on Thursday, Mills acknowledged the split had damaged the early days of the campaign ahead of a referendum on course to be held on June 23. Prime Minister David Cameron is already arguing the U.K. should stay in the EU.
"It would be better if we could have more unity," said Mills, the founder of consumer-products company JML. "At the very least, what we need is more coordination. This has always been the problem. Different people are motivated by different considerations. It's not been easy to get everybody to agree."
Mills said the idea of merging the two campaigns "doesn't make sense" and promised Vote Leave would reveal prominent spokespeople soon. "You may be surprised how strong the support turns out to be," he said. "This is more than just a hope."
He said he remains opposed to Farage taking the lead role. "Nigel Farage was always going to be a very important figure in the campaign but he appeals to a particular section of the population," he said. "He doesn't appeal to everybody. What I think would be better for one-to-one debate would be to have someone who's a more inclusive figure."
Mills stepped down as chairman of Vote Leave in favor of former Conservative Chancellor of the Exchequer Nigel Lawson. At the same time, Matthew Elliott, the campaign's chief executive, and Dominic Cummings, its campaign director, left the board. Mills said Cummings was "well known to be a bit acerbic" but that he was "one of the most intelligent people I've ever come across."
Leave.EU Co-Chairman Arron Banks said in an e-mailed statement that "it is now crystal clear" that Vote Leave has no interest in a merger. "I am angry that this group is jeopardizing this historic referendum through their dishonesty and unwillingness to embrace and work with all the Brexit groups," he said.
Aside from personalities, the two campaigns are split about how much emphasis they should place on immigration, a key issue for Farage but one which Vote Leave fears alienates centrist voters.
'Substantial Margin'
At a later lunch for journalists, Stuart Rose, the chairman of Stronger In and former head of Marks & Spencer Group Plc, the campaign to keep Britain within the EU, mocked the split "Leave" campaigns and said he's confident of victory by "a substantial margin."
"Recruitment of Conservatives is going extremely well," Rose said. "Because a number of them have met Dominic Cummings."
While he described the idea of leaving the EU as "a leap in the dark" and "a very real risk," he denied his campaign is focused on scaring people. "I don't call it Project Fear," he said. "I call it Project Reality."
Rose also questioned the value of opinion polls after last year's failure by pollsters to predict the Conservative victory in the general election, saying he favors a ban on them in the final weeks of the campaign.
Before it's here, it's on the Bloomberg Terminal.
LEARN MORE