Zika Control Demands Anti-Mosquito Measures, Officials Say
Cutting insect breeding, avoiding bites are best against virus

Florida governor orders health emergency, citing nine cases
Governments and residents of areas where Zika virus is spreading should redouble their efforts to limit exposure to mosquitoes that carry the disease, which has been linked with rare birth defects in infants, health officials said.
Netting that covers beds, screens on doors and windows, and elimination of pooled water where insects breed are the best weapons against the virus, Marcos Espinal, director of communicable diseases and health analysis for the Pan American Health Organization, said Wednesday in an interview. The agency hosted representatives from about a dozen Latin American countries in Montevideo, Uruguay, to discuss the rapidly spreading virus.
"Don't let water accumulate, use bed nets, use screens if you can," Espinal said. Most Zika cases are not spread human-to-human, he said. "It is the mosquito."
Health officials are looking for ways to contain Zika virus, which the World Health Organization declared a global public health emergency on Monday in order to coordinate government responses and mobilize resources. Currently, 26 countries in the Americas are reporting circulation of the virus, which is associated with microcephaly, or abnormally small head size and brain developmental problems, in the babies of infected women, according to PAHO.
Unwelcome Report
Dallas County health officials in Texas reported the first locally transmitted U.S. case of Zika on Tuesday. The virus was spread by sexual contact rather than mosquitoes, county officials said, while state health officials said sexual transmission was "likely." All other U.S. cases have occurred in travelers returning from areas where the virus is spread by mosquitoes.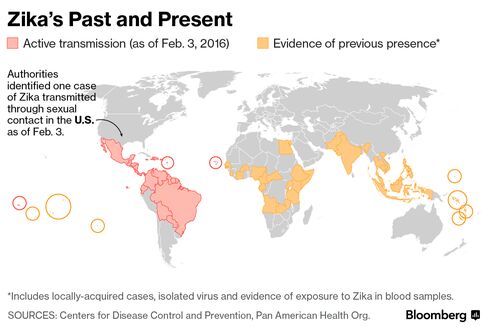 "This new report from Dallas is not entirely unexpected, but it is certainly unwelcome," said Peter Horby, a professor of infectious diseases at Oxford University. "It adds weight to the evidence that sexual transmission is a real risk, and raises many questions and dilemmas. This highlights our ignorance of this virus and the need for an urgent, comprehensive and coordinated research response."
Senate Majority Leader Mitch McConnell, a Republican from Kentucky, said in a tweet Wednesday that he asked Health and Human Services Secretary Sylvia Mathews Burwell for a briefing on the virus. In a letter to Burwell, Republican Senators Lamar Alexander, chairman of the Health, Education, Labor and Pensions Committee, and Richard Burr of North Carolina called for more research into the link to birth defects and other nervous system illnesses, and asked for incentives for companies to develop vaccines.
Florida Cases
Florida Governor Rick Scott signed an executive order on Wednesday directing the state's surgeon general to declare a public health emergency in four counties where the virus has been found. There are now nine cases of Zika infections in Florida, all travel-related, in counties including Miami-Dade, according to a statement from the governor's office. Scott also directed the state agriculture commissioner to issue a mosquito declaration and the Health Department to take steps to combat the spread of the virus.
The U.S. Centers for Disease Control and Prevention said Wednesday that it was adding Jamaica and Tonga to its list of countries and territories with travel alerts. The alert suggests that travelers take precautions to avoid bites, and that pregnant women consider postponing their journeys.
Zika has spread quickly throughout the Americas because most people there haven't been exposed in the past and thus have no has no natural immunity to the virus, according to the WHO. The mosquito that carries the virus, called aedes aegypti, is found in most areas except Canada and Chile, according to the Geneva-based agency.
No Vaccine
Concern about Zika has spread beyond the western hemisphere. The U.K.'s National Health Service said it will bar travelers from donating blood for four weeks after returning from affected countries, the Guardian newspaper reported Wednesday. The WHO warned European countries of the risk of outbreaks, recommending mosquito control, increased surveillance for infected insects and people, and education of people at risk.
­"As there is no vaccine or treatment for Zika virus disease, we must protect the European Region by stopping the disease at its source," Zsuzsanna Jakab, WHO Regional Director for Europe, said today in a statement on the agency's website. "I urge European countries to act early in a coordinated way."
Bed Netting
PAHO, a division of the WHO, said it needs $8.5 million to coordinate member countries' response to the outbreak. While WHO is organizing research projects to better understand the virus, right now the agency recommends that people in affected areas avoid mosquito bites and sleep under bed nets, Gregory Hartl, an agency spokesman, said Wednesday in a transcript of an interview released by WHO. Mosquito control efforts, such as fumigation and draining pools where insects breed, are also recommended, he said.
"What we do know is that almost 100 percent of the cases are caused by transmission by mosquitoes," he said in the interview. "For us the most important thing one can do is to limit the exposure to mosquitoes."
Hartl and PAHO's Espinal both downplayed the role of sexual transmission in the outbreak.
"The evidence is very strong that it's mosquito mostly," Espinal said. "Let's not deviate our attention."
Documented cases of sexual transmission have been rare. In February last year, the CDC reported a possible case of sexual transmission during an outbreak in French Polynesia in 2013. The National Center of Biotechnology Information also reported that an American scientist who contracted Zika in Senegal in 2008 transmitted the virus to his wife after his return.
Before it's here, it's on the Bloomberg Terminal.
LEARN MORE