The Swedish Housing Bubble Enigma and Its Risk Implications
For years, economists and even Nobel laureates have been warning that Sweden is heading for a housing bubble. But the man running Sweden's biggest mortgage bank says prices are now leveling out at a pace that may prove beneficial to his industry's capital requirements.
Michael Wolf, the chief executive officer of Swedbank, says the development will help Sweden's biggest provider of home loans manage regulatory requirements and continue a generous policy of paying 75 percent of profits in dividends.
The property market is showing signs of cooling, with no monthly price growth in both November and December. A housing price indicator fell for a fourth consecutive month in January, and fewer Swedes now expect property gains in the coming year.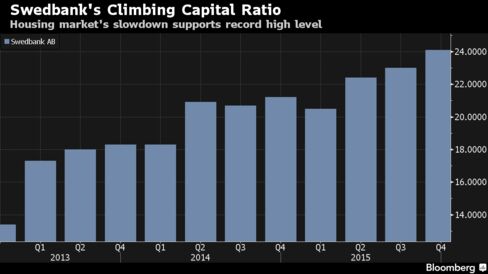 "We see a flattening of house prices, which also will affect overall numbers," Wolf said. The bank also has a capital "buffer" of 420 basis points that will allow it to meet future requirements, he said.
But there are a couple of jokers in the deck. Global regulators are looking into setting minimum capital requirements for credit risk, including mortgages. That could have serious implications for big lenders like Swedbank. Sweden's regulator is fighting the plan, which it contends would discourage safe lending.
Swedish banks also face an incursion from the south. Danske Bank, Denmark's biggest lender, is expanding its reach in Sweden and Norway. Danske's business model recently saw it overtake Deutsche Bank AG in size, measured by market value.
Is Wolf worried?
"We have the balance sheet to take more credit on, but we don't want to win business on price or risk," he said. The bank is keen to expand lending for housing construction and may do some so-called bolt-on acquisitions. But defending market share by engaging in a price war is not an option, he said.
"Risk is what risk is. If they don't want to charge correctly for risk, they'll have a problem in the future," Wolf said. "We have repriced to account for the new capital requirements around mortgages with 25 basis points. We have more or less peaked in repricing. I don't expect much repricing of new loans."
Before it's here, it's on the Bloomberg Terminal.
LEARN MORE