Robert Durst Moves Closer to Murder Trial After Weapons Plea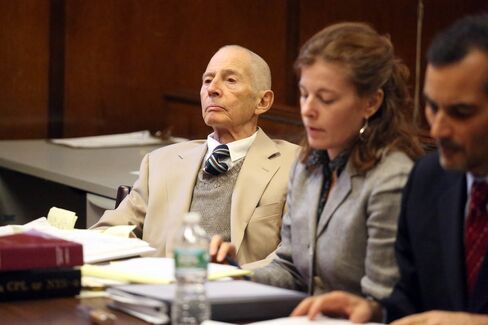 Plea deal involves extradition to face murder charges in L.A.

Durst linked to three deaths in HBO's `The Jinx' Documentary
Robert Durst, the enigmatic New York real estate heir linked to three deaths in an HBO documentary last year, pleaded guilty to a federal weapons charge in New Orleans, moving closer to a California murder trial.
Durst, 72, on Wednesday admitted to possessing a firearm, after being charged almost a year ago after the FBI arrested him in a New Orleans hotel and federal prosecutors charged him with possession of a firearm as a felon.
The judge said he would provisionally accept a plea deal, part of which would involve extradition to Los Angeles by Aug. 18 to face murder charges there. Durst had faced up to 10 years in prison, but the deal would include a term of seven years and one month with three years of probation. Sentencing is tentatively scheduled for April 27.
The deal was the result of "very intense negotiations," prosecutor Mike McMahon said outside the courthouse.
Clear the Deck
"What we've been trying to do since day one is clear the deck so we can get to California," said Durst's lawyer, Dick DeGuerin. "Robert Durst did not kill Susan Berman and we want to prove it."
Durst was traced to the hotel where he stayed under an assumed name the day before HBO showed the final episode of "The Jinx: The Life and Deaths of Robert Durst," in which he appears to admit he killed a friend who was found shot to death in Los Angeles in 2000.
He has denied in the HBO documentary that he's responsible for the death of Susan Berman. She was killed shortly before she was scheduled to be interviewed by authorities about the 1982 disappearance of Durst's first wife, Kathleen, who was never found. Prosecutors in Los Angeles have accused Durst of "lying in wait" and killing a witness to a crime.
In the final episode of "The Jinx," Durst is heard to mutter to himself while he doesn't know he's being recorded that he "killed them all," apparently a reference to his wife, Berman, and a man in Galveston, Texas.
A Texas jury acquitted him in 2003 of the murder of Morris Black, his neighbor. Durst argued during the trial that he killed Black in self-defense as they struggled for a gun. He said he cut up Black's body and dumped the parts in Galveston Bay out of fear he wouldn't be believed.
The case is U.S. v. Durst, 15-00091, U.S. District Court, Eastern District of Louisiana (New Orleans). The California case is People v. Durst, SA089983, Los Angeles County Superior Court.
Before it's here, it's on the Bloomberg Terminal.
LEARN MORE