Poverty Gains Reverse in South Africa as Economy Slumps: Chart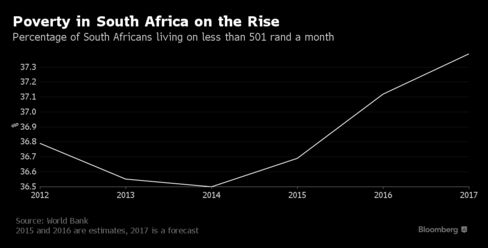 A slowdown in South Africa's economy in the past two years is reversing gains made by the government to reduce poverty. In 2014, 36.5 percent of the population lived on less than 501 rand ($31) a month, according to the World Bank. That ratio will climb to 37.4 percent next year as Africa's most industrialized economy hovers near recession. The World Bank on Tuesday cut its growth forecast for South Africa for this year to 0.8 percent from 1.4 percent.
Before it's here, it's on the Bloomberg Terminal.
LEARN MORE