Novo Nordisk Quarterly Profit Misses Estimates on Victoza
Lilly's rival drug Trulicity dented Victoza's market share

Cost of introducing Saxenda, Tresiba also weighed on earnings
Novo Nordisk A/S reported fourth-quarter earnings that missed analysts' estimates as the diabetes drug Victoza, the company's no. 2 product, saw its growth checked by a rival medicine.
Profit at the world's largest maker of insulin rose 26 percent to 8.26 billion kroner ($1.21 billion), the Bagsvaerd, Denmark-based company said in a statement. That compares with the 8.45 billion kroner average estimate of 17 analysts surveyed by Bloomberg. The stock slid as much as 7.3 percent in Copenhagen trading, the steepest drop in more than five months.
Victoza, injected daily to mimic the activity of a hormone called GLP-1 that stimulates insulin production, showed the first signs of suffering from the introduction of a rival product called Trulicity by Eli Lilly & Co. that only requires a weekly injection. The cost of introducing two new medicines also weighed on earnings.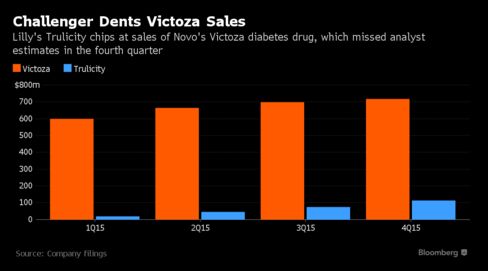 Victoza's sales rose to 4.90 billion kroner, lower than the 5.08 billion kroner analysts had anticipated. "Of course with the introduction of a new drug like Trulicity, in terms of market share, we are losing share," Chief Executive Officer Lars Rebien Soerensen told reporters on a conference call. Victoza's U.S. sales were also hit by rebate adjustments, he said.
Sales and distribution costs also climbed in the quarter as the company prepared to introduce its a new once-a-day insulin shot Tresiba and launched a weight-loss injection called Saxenda. Novo shares fell 5 percent to 358.70 euros at 9:23 a.m. in Copenhagen.
Lifestyle Disease
Like rivals Sanofi and Lilly, Novo makes drugs for people who suffer from diabetes, a disease in which the pancreas fails to produce enough insulin to convert sugar into energy. A growing majority of patients are developing a form of the disease that strikes later in life as a result of poor nutrition and sedentary lifestyles. They are the ones who can delay insulin therapy by taking tablets that help the body get rid of sugar through the kidneys. Lilly sells such a pill under the brand name Jardiance.
Some diabetics, meantime, have a lifelong form of the disease in which they must inject insulin several times a day. Novo is rolling out Tresiba in the U.S. after winning regulatory approval for the medicine in September.
Last week, the company said a study comparing the drug with Sanofi's best-seller Lantus showed that Tresiba was better at lowering rates of abnormally low blood sugar events. Still, the difference is modest and it's unclear whether the benefit will be recognized by payers in discussions on reimbursement, according to Jo Walton, an analyst at Credit Suisse Group AG.
In addition:
For 2016, sales growth is expected to be 5 percent to 9 percent measured in local currencies, as is growth in operating profit, in line with prior forecast
Company looks at acquisition opportunities to "complement portfolio" of experimental drugs, sees none at moment; no big M&A planned
Board to propose a 28 percent increase in dividend to 6.40 kroner per share
Board to initiate a new 12-month share repurchase program of up to 14 billion kroner.
Before it's here, it's on the Bloomberg Terminal.
LEARN MORE