Even after starting 2016 with a selloff, the stock market remains the best option for investors deciding where to put their money in an age of negative interest rates.
That's according to a Swedish provider of online banking, trading and fund services, Avanza Bank Holding AB.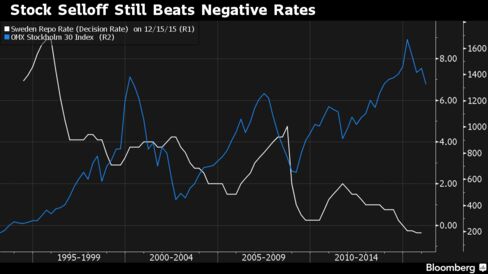 "Given the fact that we have negative repo rates, money really has nowhere else to go," Avanza Chief Executive Officer Martin Tiveus said by phone on Monday. "There's not much yield to gain in the fixed-income market in this climate, so I still see the stock market being the primary place to put your investment."
Following this year's rout -- Swedish benchmark stocks have lost about 8 percent since the end of December -- a lot of the clients Avanza deals with "are selling last year's winners and going into more stable large-cap companies that pay out dividend," which look cheaper now, Tiveus said. "That's a good sign."
Haakan Nyberg, the CEO of Swedish online financial-services provider Nordnet AB, says he also sees more clients moving into stocks to take advantage of low prices. Among the favorite picks are SEB AB, Volvo AB and the Wallenberg family's publicly traded holding company, Investor AB, he said.
Much of the movement has happened "just in recent weeks," Nyberg said. Clients "are using the opportunity now and believe that the falling indexes of roughly 10 percent creates an opportunity and therefore they use their cash holdings to go into the market."
Swedbank AB, the owner of Sweden's biggest fund manager, advises being overweight stocks, given the limited potential for real returns on other assets.
"Stock markets that have fallen more than corporate profits have also been revised down, which means a lower valuation," said Johannes Bjerner, a market strategist at Swedbank. "However, the market is in a mature part of the investment cycle and we therefore become more selective in our choice of investments. We therefore choose continued overweight in equities in our asset allocation."
But investors should also brace themselves for continued volatility in 2016, Nyberg said.
The risk is that the market climate leaves investors torn "between hope and despair," he said. "They might kind of get tired of that and withdraw from the stock market and that is not a good thing. That is bad for everyone I think, not the least the savers themselves."
Before it's here, it's on the Bloomberg Terminal.
LEARN MORE