Lundin Suffers Biggest Loss as Oil Collapse Forces Impairments
Lundin Petroleum AB suffered its biggest ever quarterly loss as the collapse in oil prices forced the Swedish explorer to book impairment charges.
The loss widened to $493 million in the fourth quarter from $436 million a year earlier, the Stockholm-based company said in a report on Wednesday. The company booked an impairment charge of $296 million and a foreign exchange loss of $129 million. The shortfall for all of 2015 was $862 million, its biggest annual loss since the company was formed and listed in 2001, according to data compiled by Bloomberg.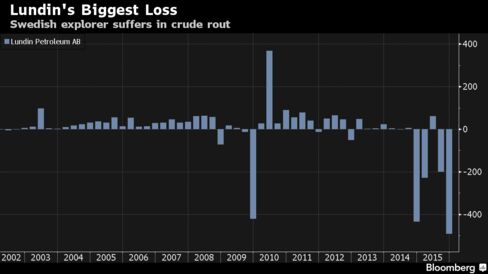 "We must face the realities of low oil prices," Chief Executive Officer Alex Schneiter said in a statement. "The best strategy in such market conditions is to execute on and deliver a low cost asset base."
Lundin and other oil companies have been battered by an oil-price rout that's pushed the Brent benchmark to about $30 a barrel from $115 in June 2014. The company, which focuses mostly on Norway, said last week it will cut exploration investments by about 64 percent this year and total spending by 26 percent.
Lundin sees oil prices improving in the second half as investment cuts by oil companies start to impact supply, Schneiter said in a Bloomberg TV interview.
"We're probably going to see some improvement, and that's mainly due probably to the impact of under-investment in our industry, which is massive today," he said.
Before it's here, it's on the Bloomberg Terminal.
LEARN MORE