The number of rigs targeting U.S. gas is at a record low

Latest U.S. gas production report shows supplies still rising
U.S. natural gas fell below $2 per million British thermal units three times in the past three months, pushing futures to the lowest level for this time of year since 1999.
For an idea of how long this rout will last, consider the 121 rigs left drilling for the fuel in the U.S. That's the lowest count in records going back to 1987, down from a peak of 1,606. And yet, the U.S. government's latest monthly data show production continues to rise.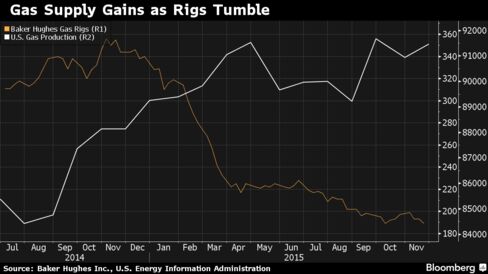 So if you're asking how low gas prices can go, perhaps the real question is: How low can the rig count go before supply really starts to drop off? There's a chance that tipping point has already come and gone, said John Kilduff, a partner at Again Capital LLC in New York. Monthly U.S. gas production has only been estimated through November, he said, and America's gas explorers have sidelined 71 rigs since then.
And then there's a chance that point is just arriving.
"It looks like gas rigs have slid to a point where we're going to see a production response," Bob Yawger, director of the futures division at Mizuho Securities USA Inc. in New York, said by phone. "But I also would have said that six months ago. Producers are doing more with a lot less."
Until supply starts showing real signs of retreating, analysts say gas prices are doomed to remain under pressure. Futures for March delivery rose 1.3 cents to settle at $2.038 per million British thermal units Wednesday on the New York Mercantile Exchange after sliding to an intraday low of $1.992.
Watch Next: What Oil at $30 Means for Markets
Before it's here, it's on the Bloomberg Terminal.
LEARN MORE