Here Is an Oil Investment That's Jumped 68% in 2016: Chart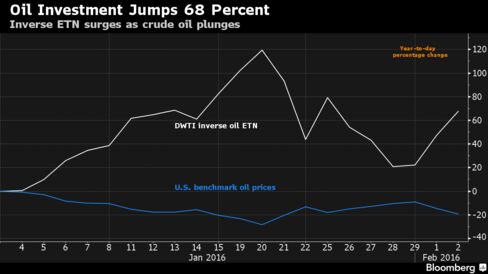 The VelocityShares Daily 3x Inverse Crude Exchange-Traded Note rose 68 percent this year through yesterday while West Texas Intermediate crude dropped 19 percent. The ETN, which seeks three times inverse return of the S&P GSCI Crude Oil Index ER on a daily basis, surged sixfold in the past two years. The fund, however, may not be suitable for holding beyond one day, and is intended to be a daily trading tool "for sophisticated investors," according to the prospectus.
Before it's here, it's on the Bloomberg Terminal.
LEARN MORE