Gold Resilient as This Year's Best Commodity as Stocks, Oil Wilt
Newmont set for biggest advance in seven years, as miners rise

Investors buy ETF gold for a 12th day, longest run since 2012
Gold climbed to a three-month high, helping propel Newmont Mining Corp. to its biggest gain in seven years, as mining shares rallied amid diminishing expectations for more U.S. rate increases.
QuickTake The Rise and Fall of Gold
Futures broke above the 200-day moving average, while an index of 14 gold producers tracked by Bloomberg Intelligence climbed to the highest since October. Holdings in exchange-traded funds backed by bullion grew for a 12th day, the longest run in three years.
Traders are betting on a less than 50 percent chance of a rate increase by the Federal Reserve this year, futures data compiled by Bloomberg show. Gold tends to fare well when rates are low as the metal only delivers returns through price gains. Expectations of a steeper trajectory of rate increases have been scaled back as turmoil reverberates in equity markets from Shanghai to New York.
Expectations of U.S. Rate Increase
4/27/2016
15.50%
6/15/2016
27.30%
7/27/2016
28.80%
9/21/2016
37.30%
11/2/2016
38.60%
12/14/2016
49.60%
2/1/2017
52.70%
"There's been a confluence of factors supporting gold, one of which is the change in sentiment about how the Fed will proceed," said Fiona Boal, a London-based director of commodity research at Fulcrum Asset Management, which oversees $3.7 billion. "On top of that, the rout we've seen in equity markets and in other commodities has made people nervous about the state of the global economy, with a greater allocation placed in gold."
Gold futures for April delivery gained 1.3 percent to settle at $1,141.30 an ounce at 1:45 p.m. on the Comex in New York. After the market closed, prices touched $1,146.20, the highest since Oct. 30. The metal surged past the 200-day moving average for the first time since Oct. 28.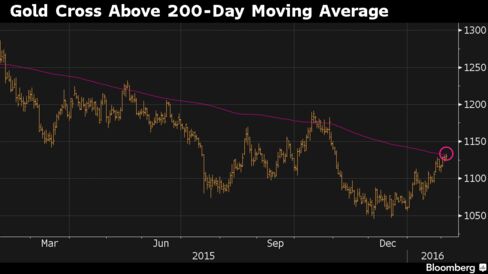 Greenwood Village, Colorado-based Newmont, the biggest U.S. gold producer, climbed as much as 11 percent, heading for the biggest gain since 2008. Returns from the precious metal have outperformed all other members of the Bloomberg Commodity Index this year, advancing about 7.6 percent. A gauge of global stocks has lost more than 7 percent.
"It's a flight to safety trade," Bob Haberkorn, a senior market strategist at RJO Futures in Chicago, said in telephone interview. "This move in gold above the 200-day moving average is just a continuation of what we've seen since the start of this year."
The chances of a U.S. rate rise in March are now 12 percent, down from 51 percent on Jan. 1, according to data compiled by Bloomberg
Silver futures also gained on the Comex while platinum and palladium advanced on the New York Mercantile Exchange
Before it's here, it's on the Bloomberg Terminal.
LEARN MORE