Witty Asks for Three Years to Boost Glaxo's Consumer Unit Profit
Glaxo's fourth-quarter core EPS, sales meet analyst estimates

Drugmaker reiterates guidance for 2016 core EPS growth
GlaxoSmithKline PlcChief Executive Officer Andrew Witty asked investors to give him three years to improve profitability at the biggest U.K. drugmaker's consumer-health unit.
The London-based company, which created a joint venture with Novartis AG for over-the-counter products including Panadol painkillers, Sensodyne toothpastes and the Voltaren joint-pain cream last year, on Wednesday said the fourth-quarter core operating margin for that business was 11.5 percent. That compared with profitability ratios of 28.2 percent for its pharmaceutical division -- led by HIV medicines' 70.4 percent -- and 17 percent for vaccines.
"We're only one year into the extraction of value from the creation of this consumer company," Witty told reporters on a conference call after Glaxo posted fourth-quarter earnings per share and sales that matched analysts' expectations. "We've laid out very clearly that we think it's a three-year journey to really get the margin structure to where we want it to be."
The comments come amid speculation that Reckitt Benckiser Group Plc, Procter & Gamble Co. or Unilever Plc may be interested in buying the business from Glaxo.
Consumer health has the potential to be a "very, very big business in its own right," Witty reiterated on Wednesday, signaling that Glaxo could consider alternative structures for the division including a listing after it has expanded. For the moment, the unit, along with the vaccines business, helps blunt the volatility of prescription pharmaceuticals, he said.
Stock Jumps
Shares of Glaxo rose 2.5 percent to 1,461 pence as of 2:02 p.m. in London trading after Glaxo said in a statement on Wednesday that sales for the fourth quarter climbed 2 percent to 6.29 billion pounds. That compared with a 6.26 billion-pound average estimate from analysts. Revenue from its blockbuster respiratory medicine Advair was 1.03 billion pounds, beating analysts' estimate of 910.1 million pounds.
Profit excluding certain costs dropped 23 percent to 1.36 billion pounds ($1.97 billion), missing the 1.47 billion-pound average of nine analysts' estimates compiled by Bloomberg. Core earnings per share of 18.1 pence matched the average of analyst estimates.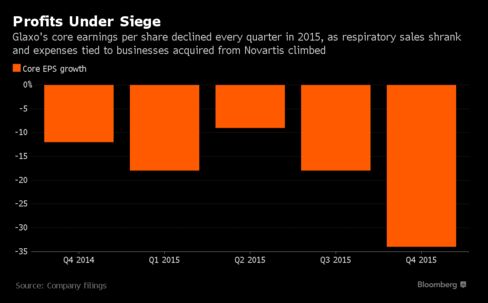 The drugmaker reiterated its earnings forecast for 2016, saying that core earnings per share are expected to reach "double digit" percentage growth this year, assuming that exchange rates don't change.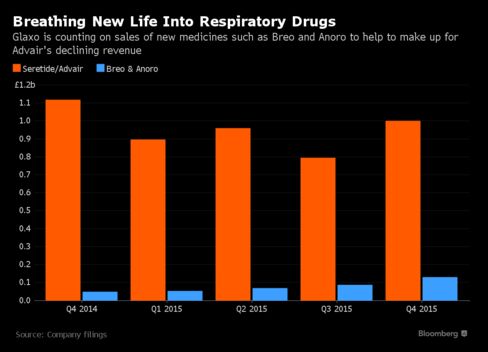 Sales at Glaxo's pharmaceuticals business fell 1 percent to 3.76 billion pounds even as HIV drugs' revenue soared 51 percent. The vaccines business shrank 1 percent to 963 million pounds while the consumer health unit expanded 5 percent to 1.56 billion pounds.
Revenue from Glaxo's other key drugs in the fourth quarter:
Triumeq at 289 million pounds versus estimate of 256.3 million pounds
Tivicay at 174 million pounds versus estimate of 180.3 million pounds
Breo at 99 million pounds versus estimate of 79.7 million pounds
Anoro at 30 million pounds versus estimate of 30.3 million pounds
Avodart at 110 million pounds versus estimate of 145.3 million pounds
Before it's here, it's on the Bloomberg Terminal.
LEARN MORE