Comcast Sees Biggest Cable-TV Subscriber Gain in Eight Years
Earnings per share of 81 cents misses analysts' estimates

Cable operator increasing 2016 dividend 10% to $1.10 per share
Comcast Corp., the largest U.S. cable provider, added more video subscribers in the fourth quarter than in any quarter in the last eight years, defying a trend of cord-cutters dropping traditional TV for online video services like Netflix.
The Philadelphia-based company gained 89,000 cable-TV subscribers in the quarter, according to a statement Wednesday. Three analysts surveyed by Bloomberg had projected an average gain of 19,700 video customers. Even so, profit excluding some items was 81 cents a share, just missing analysts' projections of 82 cents a share.
Comcast shares rose as much as 4.4 percent to $57, the biggest intraday gain in a year. They were trading at $56.94 at 12:11 p.m. in New York.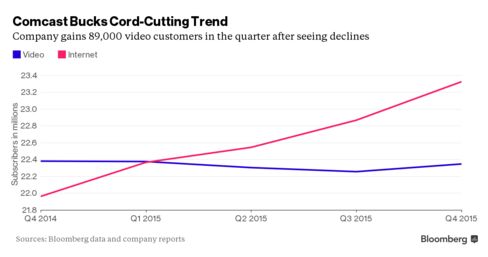 Comcast is still finding ways to sign up more people for pay-TV even as customers' monthly bills rise and it faces more competition from online-streaming services. The quarterly gain came partly at the expense of its telephone rivals AT&T Inc. and Verizon Communications Inc., whose TV-subscriber growth has slowed.
Since abandoning its $45.2 billion plan to buy Time Warner Cable Inc. last April, Comcast has been rolling out its new X1 video platform, trying to improve its customer service, and offering skinnier bundles of channels to customers.
Comcast's video subscriber gains were still dwarfed by the number of households adding high-speed Internet. The cable operator signed up 460,000 broadband customers in the period, topping analysts' projections for an average of 372,700.
Revenue excluding Comcast buying control of Universal Studios Japan rose 7.6 percent to $19.1 billion, topping analysts' estimates of $18.8 billion.
The cable operator plans to increase its dividend by 10 percent to $1.10 per share and buy back $5 billion in stock in 2016, both in line with analysts' estimates.
The average monthly customer bill rose 3.5 percent to $144.90.
Sales in the business services division, which sells phone, Web and video services to companies, rose 19 percent to $1.26 billion.
Sales at the NBCUniversal group, which includes the NBC broadcast network, cable channels such as USA and MSNBC, and the Universal film studio, rose 11 percent to $7.31 billion, excluding Comcast buying control of Universal Studios Japan.
Advertising revenue at the cable networks was little changed at $854 million, while total cable network revenue gained 3.4 percent.
The film unit generated $1.63 billion in sales during the quarter, up 26 percent from a year earlier, on home-entertainment sales of films like "Minions."
Before it's here, it's on the Bloomberg Terminal.
LEARN MORE