Auspicious Eight: China's Biggest Overseas M&A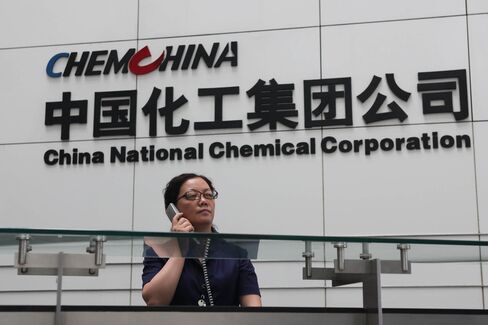 China has sealed a new number 1 deal — its largest overseas acquisition. Here is a look at the country's biggest deals outside of Greater China, and a snapshot of Bloomberg's coverage at the time:
1) China National Chemical Corp., or ChemChina, agrees to buy Syngenta AG
Announced Feb. 3, 2016. Total enterprise value (including debt): $46.3 billion
The deal would help Chairman Ren Jianxin transform ChemChina into the world's biggest supplier of pesticides and agrochemicals, while snatching an asset coveted by St. Louis-based Monsanto Co. It also underscores the importance China attaches to owning seed and crop technology that can boost agricultural output and help feed the world's biggest population.
2) CNOOC Ltd. buys Nexen Energy ULC
Announced July 23, 2012. Total enterprise value: $17.4 billion.
Nexen's oil and gas assets include production platforms in the North Sea, the Gulf of Mexico and in Nigeria, as well as oil-sands reserves in Canada. Those assets produced 207,000 barrels a day in the second quarter, which would boost the Chinese company's output by about 20 percent. About 28 percent of Nexen's current production is in Canada.
3) China Petrochemical Corp. buys Addax Petroleum Corp.
Announced June 24, 2009. Total enterprise value: $8.8 billion.
China, which relies on imports for about half of its crude-oil needs, is seeking to increase investment in overseas petroleum fields as plunging prices make it cheaper to acquire energy assets. Addax has operations in West Africa and holds exploration licenses in Iraq's Kurdistan.
4) ChemChina acquires Pirelli & C. SpA
Announced March 22, 2015. Total enterprise value: $8 billion.
The deal was essentially the last stand for Italy's old business elite. The so-called Salotto Buono (``fine salon'') used a web of cross-shareholdings and layered investment vehicles to maintain their grip on leading companies. Under the agreement, ChemChina provides the bulk of the funding to acquire the maker of tires for Ferraris, Bentleys and Formula 1 racing cars.
5) Consortium of companies buy Xstrata PLC Las Bambas Copper Deposit
Announced April 13, 2014. Total enterprise value: $7 billion.
The group, led by a unit of China Minmetals Corp., bought the cooper mine in Peru as part of China's strategy to gain greater control over supplies. The mine is forecast to produce 400,000 metric tons of copper a year, or the equivalent of almost 13 percent of copper metal imports by China, the world's biggest buyer, in 2013.
6) WH Group Ltd. acquires Smithfield Foods Inc.
Announced May 29, 2013. Total enterprise value: $7 billion.
China's consumption of pork is rising with the expansion of its middle class, yet questions remain about the safety of the country's food supply. Smithfield's livestock unit is the world's largest hog producer, bringing about 15.8 million animals to market a year, according to the company's website. It owns 460 farms and has contracts with 2,100 others in the U.S.
7) Qingdao Haier Co. Ltd. buying appliances business of General Electric Co.
Announced Jan. 15, 2016. Total enterprise value: $5.4 billion, pending finalization.
The Shanghai-listed company said it paid a premium for GE's long history, brand value and supply chain as it tries to expand in the U.S. Under the agreement, Haier can continue using the GE brand, including in China, for 40 years.
8) China National Petroleum Corp. buys stake in Kashagan Caspian oil project from KazMunayGas National Co.
Announced Sept. 7, 2013. Total enterprise value: $5 billion.
CNPC acquired 8.33 percent in the Kashagan project from the state oil company. China was seeking to deepen its relationship with Kazakhstan as the start of production at Kashagan boosted oil exports. A pipeline linking Kazakhstan and China opened in 2006 and is being expanded to 400,000 barrels a day from 240,000 barrels a day.
Before it's here, it's on the Bloomberg Terminal.
LEARN MORE