U.S. Shares Climb as Weak Dollar Boosts Metals; Oil Resumes Drop
Greenback extends slide as Fed policy tightening outlook dims

Crude falls back below $32 a barrel as glut angst reemerges
Commodity producers drove gains in U.S. stocks, with the weaker dollar boosting gold to copper amid speculation global growth won't be strong enough to warrant further interest-rate increases from the Federal Reserve. Oil fell back below $32 a barrel.
Mining and industrial shares led a second day of gains in the Standard & Poor's 500 Index, while disappointing retailer earnings dragged consumer shares lower. Emerging-market equities rallied almost 3 percent. Industrial metals jumped with gold and platinum as the Bloomberg Dollar Spot Index capped its steepest two-day slump since March. The pound retreated after Ian McCafferty, the Bank of England's only dissenter on monetary policy over the past six months, dropped his call for rate hikes. Oil fell for the third day this week.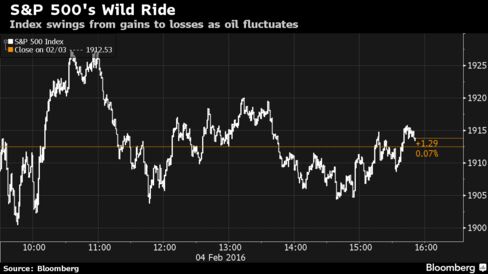 The dollar's retreat was sparked by patchy economic data that has ignited concern over the vulnerability of the American economy to unsteadiness abroad. The fixed-income market is leaning toward the prospect there will be zero rate hikes by the Fed this year, amid speculation central banks from Asia to Europe will act to quell the turmoil that's roiled markets in 2016. The weaker dollar makes commodities cheaper, and therefore more appealing, in other currencies, while the expectation U.S. rates will be left as is bolsters precious metals, given they don't deliver returns other than via price gains.
"The lower the dollar, the better it is for commodities, so we are seeing a little bounce back," Andrew Brenner, head of international fixed income at National Alliance Capital Markets in New York said by phone. "The number of Fed rate raises has continued to be reduced by the marketplace, probably a little bit too much. But yes, the Fed will cut back, we will not do four interest-rate raises this year."
Stocks
After swinging between gains and losses for most of the session, the S&P 500 ended up 0.2 percent at 1,915.45 as of 4 p.m. in New York. The gauge advanced for the first time this month on Wednesday, erasing a drop of more than 1 percent as oil rallied. Still, the S&P 500 is down more than 6 percent in 2016.
Raw material producers advanced 2.8 percent to their highest level in almost a month as Freeport McMoRan Inc. surged with copper. Energy producers closed little changed in the U.S. after gaining earlier in the day. Shares in consumer-discretionary stocks fell as Kohl's Corp. sank 19 percent after slow sales squeezed profits. Ralph Lauren Corp. plunged after the company cut its annual forecast.
LinkedIn Corp. tumbled more than 20 percent in extended trading after the online networking company forecast weaker-than-estimated profit for the first quarter. the current earnings season has been a mixed one in the U.S., with 78 percent of companies that have reported thus far posting above-estimate profit, while only 46 percent recorded sales that were better than analysts expected.
Economic data Thursday reinforced a mixed picture on the U.S. economy. Initial jobless claims last week rose more than expected, Labor Department data showed, while factory orders declined at a faster pace in December than the previous month. Weaker-than-expected data on the American services industry spurred the dollar's initial selloff on Wednesday.
"The question is what can we hang our hat on right now? It's not earnings, it's not what central banks are able to do, and it's certainly not what we're seeing with economic data," Yousef Abbasi, global market strategist at JonesTrading Institutional Services LLC in New York, said by phone. "Central banks continue to take their targets down on growth and inflation and part of today's frustration came with the whippiness of crude."
The Stoxx Europe 600 Index fell 0.2 percent after rising as much as 1.1 percent earlier in the session. Daimler AG led automakers to among the biggest declines out of the 19 industry groups. Gauges of energy shares and commodity producers jumped more than 3.3 percent, for the best performances.
Credit Suisse Group AG slumped 11 percent to its lowest price since August 1992 after posting a quarterly loss as it wrote off goodwill and set aside provisions for litigation, while its two investment-banking divisions slumped.
Emerging Markets
The MSCI Emerging Markets Index rose 2.5 percent, with about five stocks advancing for each that declined. Mining companies and energy producers led gains among 10 industry groups, climbing more than 4.7 percent.
Russia's Micex Index jumped 2.4 percent, the most in a week, and shares in Dubai rallied 2.8 percent following oil's 8 percent rebound on Wednesday. Equity benchmarks in South Korea, Malaysia, the Philippines and South Africa rose at least 0.8 percent.
Emerging-market currencies capped a two-day advance. Malaysia's ringgit and the South Korean won strengthened at least 1.4 percent against the dollar, while Turkey's lira erased this year's losses.
Currencies
Bloomberg's dollar index, a gauge of the greenback against 10 major peers, retreated 0.6 percent after sliding as much as 1.9 percent last session.
The greenback fell against all of its 16 major peers Thursday, except for Mexico's peso and the pound. The British currency was weighed down by the Bank of England 's unanimous vote to keep rates unchanged. Officials signaled borrowing costs will stay low as they cut their growth and inflation forecasts.
The dollar slipped 1 percent to 116.73 yen, after erasing all its gains since the Bank of Japan's surprise move into negative interest rates on Jan. 29. The greenback weakened 1 percent to $1.1214 per euro, and has fallen every day this week.
Commodities
The Bloomberg Commodity Index, which measures returns on raw materials, fell 0.2 percent after earlier rallying as much as 1.2 percent. The gauge advanced 1.9 percent last session.
Oil sank after rallying earlier in the day. West Texas Intermediate fell 1.7 percent to settle $31.72 a barrel in New York, after jumping as much as 4.1 percent. Some OPEC member states and non-members have been talking about an extraordinary meeting on production.
Statoil ASA, Norway's biggest oil company, deepened investment cuts and offered to pay dividends in stock. Royal Dutch Shell Plc said it depleted its oil and gas reserves much faster than it replenished them with new resources in 2015, its worst performance since 12 years ago.
Industrial metals benefited from a drop in the U.S. currency that makes dollar-denominated commodities cheaper for investors. Aluminum for delivery in three months climbed to its highest level this year on the LME, and lead advanced for the eighth day in a row, its longest rally since June 2014.
Spot gold climbed for a fifth day, the longest run of gains in five months, as expectations of continued low U.S. interest rates seeped through the market.
Bonds
Yields on 10-year Treasury notes slipped four basis points, or 0.04 percentage point, to 1.85 percent. Rates dropped to 1.79 percent Wednesday, their lowest level since February 2015.
Goldman Sachs Group Inc. and Pacific Investment Management Co. say bonds are poised to fall and traders aren't prepared for how far the Fed will tighten policy.
Spanish and Italian government bonds led declines across the euro region as investors questioned the level of additional stimulus they can expect from the European Central Bank. Yields on Japanese bonds due in a decade fell a basis point to 0.057 percent.
Before it's here, it's on the Bloomberg Terminal.
LEARN MORE