UBS Drops as Profit Slumps at Wealth, Securities Businesses
Net income rises 11% in fourth quarter, boosted by tax gain

UBS raises dividend to 85 centimes for 2015 from 75 centimes
UBS Group AG dropped the most in more than a year after profit at the wealth management and investment-banking businesses slumped in the fourth quarter.
At the wealth-management unit, the bank's largest, pretax profit fell 47 percent to 344 million Swiss francs ($337 million) from a year earlier, with 3.4 billion francs in net new money outflows, while the investment bank reported a drop of 63 percent to 80 million francs, the Zurich-based lender said in a statement Tuesday. That's below analyst estimates.
Chief Executive Officer Sergio Ermotti, 55, has reshaped UBS to focus on wealth management, shrinking the investment bank, a model that's being tested as market swings, cooling emerging economies and a slumping oil price reduce client trading. The Swiss bank said it was hurt by "very low levels of client activity and pronounced risk aversion" in the fourth quarter, with record-low interest rates and a strong franc adding to "headwinds" in 2016.
"Operatively, it was an abysmal quarter in wealth management and investment banking," said Andreas Brun, an analyst at Zuercher Kantonalbank who downgraded UBS to market perform from outperform. "It's incomprehensible to me why UBS is alternating between perfect and awful."
Shares Drop
UBS shares closed at 15.54 francs in Zurich, down 6.8 percent. They dropped as much as 8.8 percent, the biggest slump since January 2015.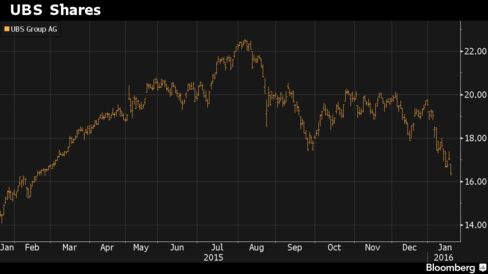 Fourth-quarter net income rose 11 percent to 949 million francs, boosted by a tax gain of 715 million francs. The full-year adjusted return on tangible equity, a measure of profitability, was at 13.7 percent, beating a target of about 10 percent. The bank expects the measure to remain at about the same level this year.
On a call with analysts, Ermotti called the three months through December the "most challenging" quarter the bank has experienced in "several years."
"No matter how you look at it, risk aversion is still very high," he said. "Clients know they should invest more, but cash helps them sleep better at night. While the long-term outlook remains sound, they are questioning the predictability of tomorrow."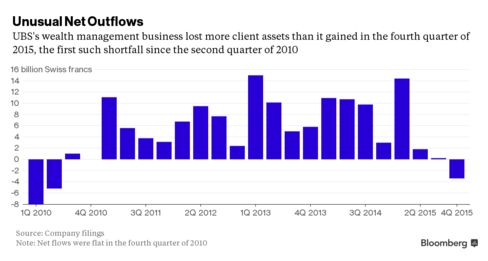 At the wealth-management business, pretax profit missed the 634 million francs projected by analysts in a Bloomberg survey. The gross margin on invested assets fell 4 basis points to 80 basis points from the third quarter. Net new money outflows had the worst performance since the second quarter of 2010, driven by Europe and emerging markets.
Financial firms have been rocked by turbulence across global equity markets, reflecting investor concerns about cooling growth in emerging economies. At the same time, a slump in oil has prompted energy producers across the Middle East to consider savings and project delays as they grapple with crude's 19 percent descent this year.
Chief Financial Officer Kirt Gardner said the bank tends to have a "high concentration of very large clients that are entrepreneurs and have large shares in their own businesses" in emerging markets, without elaborating.
"Some of those businesses tend to be energy exposed and concentrated," he said. "So one of the large drivers of the outflows that you are seeing in emerging markets is a consequence of those clients having liquidity requirements deleveraging and withdrawing some of the funds from our business, and in particular of course, markets like Russia, the Middle East and Brazil are impacted by that environment."
UBS Targets
The bank is "comfortable" with its growth target for net new money of 3 percent to 5 percent, Gardner said on a call with analysts. UBS expects to reach a 1.4 billion-franc savings goal by mid-2016 -- later than projected -- with the group targeting net cost reductions of 2.1 billion francs by 2017.
"The results are weak and given the start of the year, expectations are probably going to have to come down," said Tomasz Grzelak, an analyst at Mainfirst Bank AG in Zurich, who has a neutral recommendation on UBS. "Their capital position is supportive though and that's positive because it allows them to pay a more attractive dividend than expected."
Dividend Outlook
UBS proposed a dividend for 2015 of 85 centimes per share, including a special payout of 25 centimes, up from 75 centimes for 2014. The bank has pledged to pay out at least half its earnings to shareholders as long as its common equity Tier 1 ratio, a measure of financial strength, remains above 13 percent. The ratio stood at 14.5 percent at the end of December, helped by a 9 billion-franc drop in risk-weighted assets.
While the dividend beat estimates of some analysts, including Andrew Coombs at Citigroup Inc., Kian Abouhossein at JPMorgan Chase & Co. said in a note following the results that "the market could interpret conservative ordinary dividend as a concern for profits going forward."
"Our dividend is a reflection of a very strong year and also a reflection of a very strong year in operating profits," Ermotti said in an interview with Manus Cranny on Bloomberg TV on Tuesday. "Our aim is to continue to grow our ordinary dividend."
At the personal and corporate banking division, pretax profit rose 4.4 percent to 355 million francs, while profit more than doubled to 171 million francs at the the asset-management business. At the wealth management Americas division, profit was hurt by $180 million higher net charges linked to litigation and regulatory matters.
Investment Bank
At the investment bank, run by Andrea Orcel, pretax profit missed analysts' estimate of 337 million francs. Revenue at the equities business dropped 19 percent to 733 million francs, while decreasing to 650 million francs from 704 million francs at the corporate client solutions unit, which includes advisory and underwriting businesses. That was partly offset by revenue from foreign exchange, rates and credit, which climbed 30 percent to 388 million francs in the quarter.
Investment banks around the globe have been hurt by tougher capital requirements and a slump in trading revenue. At Deutsche Bank AG, the securities unit slipped into a loss in the fourth quarter, as co-CEO John Cryan seeks to cut costs and boost profitability.
"When you look at the dynamic of the fourth quarter and when you look at how January started, you could see a trend continuing," Ermotti said. "Of course, there's a high level of risk aversion. People are happy with our asset allocation in general but they are paralyzed by this high volatility" and geopolitical factors.
Credit Suisse Group AG, which is also shrinking its investment bank to increase the focus on wealth management, will release full-year earnings on Thursday.
Before it's here, it's on the Bloomberg Terminal.
LEARN MORE