From the moment Malaysian Prime Minister Najib Razak took over the fund in 2009, 1Malaysia Development Bhd. has remained controversial. It was set up by the oil-rich state Terengganu and was turned by Najib into a federal government-owned development fund.
Plagued by heavy debt and questions about its management, the state of 1MDB grew into a scandal that moved closer and closer to the heart of government, culminating in multiple investigations—in Malaysia and overseas—into the company. It prompted calls for Najib's ouster, and recalled the nation's long struggle with corruption and economic disappointment.
Here is a timeline of 1MDB's evolution and how it turned into one of Najib's biggest crises as Malaysia's leader.
December 2008
Terengganu state gets federal government approval to set up the Terengganu Investment Authority as a sovereign wealth fund.
April 2009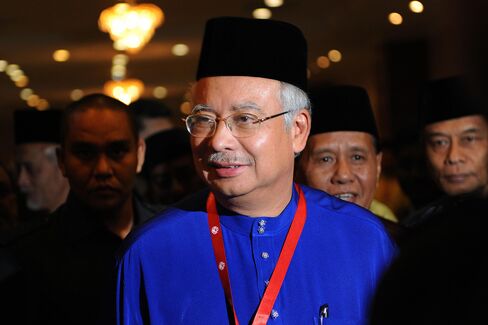 Najib Razak becomes prime minister.
May 2009
TIA sells its first ringgit bonds, amounting to 5 billion ringgit. They're guaranteed by the federal government.
July 2009
The federal government takes over the TIA and renames it 1Malaysia Development Bhd. Najib would chair its advisory board.
September 2009
1MDB sets up a $2.5 billion joint venture with PetroSaudi International.
December 2009
Goldman Sachs wins approval from the Securities Commission of Malaysia to set up fund management and corporate advisory operations in the country.
March 7, 2012
1MDB acquires Tanjong Energy Holdings from Malaysian billionaire T. Ananda Krishnan for 8.5 billion ringgit.
March 2012
An annual report that was released later would show 1MDB had 7.8 billion ringgit of debt at the end of March 2012.
May 21, 2012
1MDB raises $1.75 billion by selling 10-year notes yielding 5.99 percent.
July 2012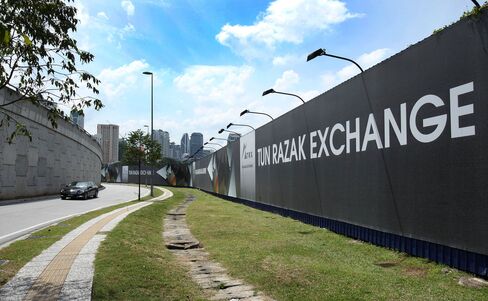 Najib inaugurates 1MDB's Tun Razak Exchange, a financial center, on 70 acres of prime Kuala Lumpur real estate.
August 2012
1MDB agrees to buy Genting's domestic power-generation assets for 2.3 billion ringgit. The company was reported to be planning to raise as much as $2 billion in an initial public offering of its power assets.
October 2012
1MDB raises $1.75 billion by selling 10-year bonds yielding 5.75 percent.
March 19, 2013
1MDB raises $3 billion by selling 10-year bonds yielding 4.4 percent.
March 25, 2013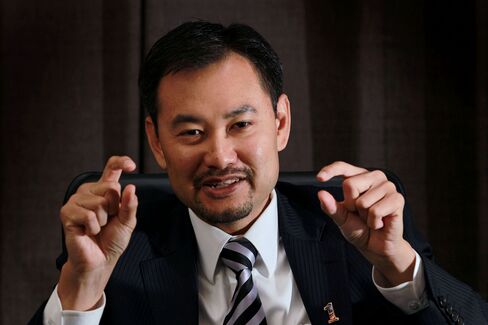 1MDB appoints Mohd Hazem Abd Rahman as CEO, replacing Shahrol Halmi.
May 2013
Bloomberg News reports that Goldman Sachs Group Inc. made about $500 million arranging three bond sales in the past year for 1MDB, amounting to about 7.7 percent of the face value of the securities.
The ruling Barisan Nasional coalition wins the election. Najib begins a second term.
July 2013
1MDB agrees to pay 1.2 billion ringgit for a 75 percent stake in a 1,400 megawatt coal-fired power, pushing its spending bill on energy assets to 12 billion ringgit.
Fitch Ratings Ltd. cuts its outlook for Malaysia's credit rating to negative, citing weakening state finances and rising contingent liabilities.
August 2013
1MDB is said by people familiar with the matter to have obtained a six-month extension on a 6.17 billion ringgit bridge loan, giving it more time to sell shares in its power business to repay debt.
February 2014
1MDB and Mitsui Co. win the bid to build and operate a 2,000-megawatt coal-fired power plant, known as Project 3B.
1MDB is granted till end-March 2014 to file its annual return for the year ended March 2013. It appoints Deloitte to complete its audit after saying it mutually agreed with KPMG to part ways. It was later revealed in a parliamentary committee probe that KPMG's services were terminated in December 2013.
April 2014
1MDB reports financial results for the year ended March 31, 2013, during which debt surged to 36.3 billion ringgit.
July 2014
1MDB starts work on an IPO of its energy unit Edra Global that is expected to raise more than $3 billion, with listing targeted for the fourth quarter.
August 2014
Former Malaysian leader Mahathir Mohamad, a veteran of the United Malays National Organization party, says he is withdrawing support for Najib. The following month, Mahathir says 1MDB is contributing to Malaysia's higher debt levels and says the country could end up like Argentina if borrowings are not repaid.
November 2014
1MDB reports financial results for the year ended March 31, 2014, during which debt surged to 41.9 billion ringgit. The same month, it was said by people familiar with the matter to have submitted an application for an IPO of Edra that may raise about $4 billion and reported to be seeking to raise 8.4 billion ringgit via Islamic bonds.
December 2014
1MDB is said by people familiar with the deal to defer the sale of Islamic bonds as it seeks to delay construction of Project 3B.
January 2015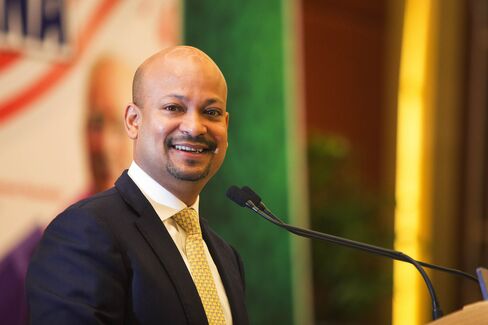 1MDB appoints Arul Kanda as president and executive director, replacing Mohd Hazem, who steps down as CEO. The Edge newspaper reports 1MDB failed to repay a 2 billion ringgit loan that was initially due Nov. 2014, causing Malaysian credit default swaps to rise. Kanda, in an interview with Bloomberg a day after he was appointed, insists 1MDB is a "responsible" borrower.
People familiar with the matter say the IPO of Edra will be delayed as 1MDB tries to resolve debt repayments.
February 2015
1MDB settles the 2 billion ringgit bank loan with money from billionaire Ananda Krishnan after reportedly missing two repayment deadlines and getting at least one extension.
1MDB says it will break up its assets and monetize them after a strategic review of its business, signaling it plans to wind down. It said it wouldn't undertake any new investments or projects after it sets up standalone entities for its two major property projects and raises cash from selling Edra.
March 2015
1MDB is reported by The Star newspaper to need to re-submit its application for Edra if the listing is still to proceed.
Najib instructs the country's Auditor-General to independently verify the financial accounts of 1MDB—the first of four investigations into the company.
1MDB gets 970 million ringgit in standby credit from the Ministry of Finance.
The Finance Ministry says 1MDB is in talks to transfer Project 3B as it doesn't have the capacity to take on 8 billion ringgit of debt.
Fitch says Malaysia's credit rating is "more than 50 percent likely" to be downgraded in part as 1MDB struggles to meets its debt obligations.
The Monetary Authority of Singapore says it's helping in a Malaysian probe into 1MDB after a report that a Swiss bank in Singapore is keeping 1MDB's money redeemed from investments in Cayman Islands funds.
Malaysia hires CIMB Group Holdings Bhd. to find a potential buyer for Edra as it seeks alternatives to an IPO. A week later, the finance ministry scraps the plan and says it remains focused on a share sale.
April 2015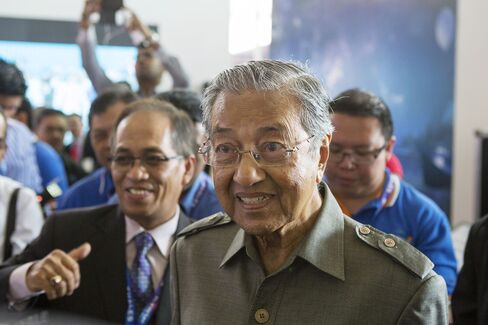 Najib says he will remain as leader for as long as he has the mandate of his party and citizens, brushing off calls from Mahathir Mohamad for him to step down over alleged mismanagement of the economy and 1MDB. Mahathir says Najib has lost the trust of Malaysians, and their party will lose in the next general election if he stays as leader.
May 2015
The nation's Hajj pilgrims fund Lembaga Tabung Haji says it bought land within the Tun Razak Exchange project for 188.5 million ringgit, prompting criticism from Muslim Malaysians nationwide as they protest their facilitated savings being used as what they perceive to be a bailout. Tabung Haji says it will sell the land.
Najib instructs the Auditor-General to expedite investigation of 1MDB.
Abu Dhabi-based International Petroleum Investment and its Aabar Investments unit agree to provide $1 billion to 1MDB so that it can pay off $975 million of a Deutsche Bank-led syndicated loan.
June 2015
Malaysia's central bank says it has started a formal inquiry into 1MDB to examine any contravention of its rules and legislation.
1MDB says it has repaid a $975 million syndicated loan led by Deutsche Bank.
1MDB invites proposals for equity investments in its Bandar Malaysia property project, a 495-acre mixed property development in Kuala Lumpur.
Malaysia's cabinet announce Tenaga will take over 1MDB's stake in Project 3B.
Thai police detain a former executive of PetroSaudi International Ltd. for allegedly extorting money and leaking information on 1MDB. The Bangkok Post reports that the detainee denied the allegations, while 1MDB pledged cooperation in the investigation.
Fitch leaves Malaysia's credit rating unchanged and revises the outlook to stable from negative.
July 2015
Almost $700 million in cash linked to 1MDB is believed to have been deposited in Najib's bank accounts, the Wall Street Journal reports, citing a government probe. Najib says he never took funds for personal gain and threatens to sue the paper. 1MDB denies it funneled funds to Najib.
Malaysia investigators visit the Kuala Lumpur headquarters of 1MDB and remove documents. The Auditor General says an initial audit of 1MDB does not reveal any suspicious activity.
A preliminary report by the auditor general finds no evidence of wrongdoing by 1MDB or proof that $700 million went to a "certain individual," says Ahmad Husni Hanadzlah, Malaysia's second finance minister. A parliamentary committee is told that while the Auditor General has found no suspicious activity, 1MDB didn't hand over all the requested documents related to its finances.
Tenaga submits a non-binding proposal to buy Edra's assets.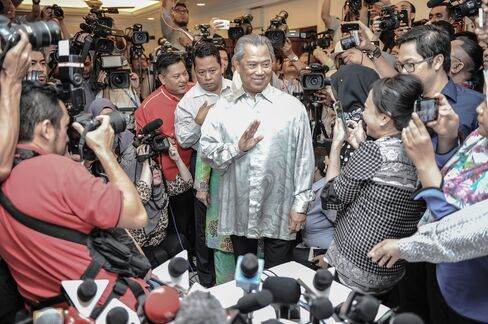 The government suspends the publishing permit of the Edge newspaper, judging that its coverage of 1MDB threatens public order and national security.
Najib removes Deputy Prime Minister Muhyiddin Yassin, who has called for answers on 1MDB including its investment decisions. The government says it's replacing attorney general Abdul Gani Patail for health reasons. Abdul Gani was part of a task force investigating 1MDB and the funds in Najib's accounts. The parliamentary Public Accounts Committee probe into 1MDB is halted temporarily after four of its members were appointed to cabinet.
August 2015
The Malaysian Anti-Corruption Commission says its investigations find that 2.6 billion ringgit that allegedly ended up in Najib's personal accounts are donations and not from 1MDB. The donors are from the Middle East.
The central bank says it has completed its investigations into 1MDB and has submitted the results to the attorney general.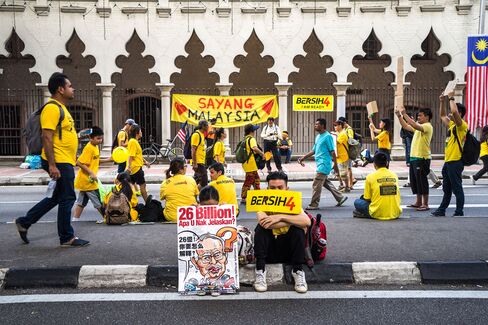 Swiss authorities say they have opened criminal proceedings against two unnamed 1MDB executives and what it referred to as unknown persons on charges of suspected corruption, misconduct in public office and money laundering.
Hundreds of thousands of Malaysians protest at an anti-government rally calling for Najib to step down.
September 2015
The Swiss Attorney-General freezes "several tens of millions" of dollars in bank assets related to 1MDB.
A Malaysian court overturns the government's suspensions of two publications by the Edge.
1MDB is being probed by the U.S. Federal Bureau of Investigation over money laundering, while the U.S. Justice Department is looking into property purchases associated with Najib's stepson, according to reports by the Wall Street Journal and New York Times. 1MDB tells Reuters it hasn't been contacted by the FBI, or investigators in Switzerland and Singapore.
October 2015
1MDB gets a six-month extension to submit its accounts for the year ended March 2015. Najib's administration needs to complete investigations into 1MDB soon to help resolve a crisis in confidence in the country, the rulers of Malaysia's 13 states said.
Bank Negara Malaysia says it recommended to the Attorney General that it initiate criminal prosecution against 1MDB for breaches under the Exchange Control Act 1953. The Attorney General's Office says 1MDB didn't commit an offense in the central bank's probe. The central bank submits a request for the decision to be reviewed and the Attorney General decides to maintain its conclusion as no new evidence has been presented.
The central bank says it will revoke three permissions granted to 1MDB for investments abroad totaling $1.83 billion and also issued a direction under the Financial Services Act 2013 to 1MDB to repatriate the amount of $1.83 billion to Malaysia and submit a plan to the bank for this purpose.
November 2015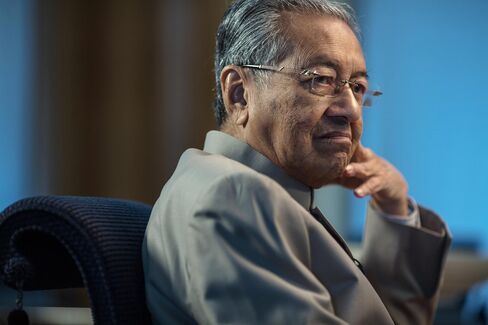 Mahathir is quizzed by police over his criticism of Najib.
1MDB sells Edra assets to China General Nuclear Power Corp. for 9.83 billion ringgit, and the buyer will assume all gross debt and cash of Edra and its subsidiaries. The transaction is expected to be completed in February.
December 2015
Najib gives his statement to anti-graft officials on the 2.6 billion ringgit in his accounts. They submit a report of their findings to the Attorney General's Chambers with recommendations for action.
January 2016
Malaysia's Attorney General Apandi Ali on Jan. 26 calls a press conference to announce he is satisfied, after reviewing facts and evidence, that no criminal offense has been committed by Najib. The prime minister received a "personal contribution" of $681 million from the Saudi royal family in early 2013 and he returned $620 million in August that year that was not utilized, Apandi said. He did not specify what the remainder of the funds was used for.
"I am here to clear the prime minister," Apandi said. Under Malaysia's federal constitution, the decision to initiate criminal prosecution lies solely with the attorney general.
Three days later, Switzerland's prosecutors say they are seeking legal assistance from Malaysia. The prosecutors say the Swiss probe into 1MDB revealed "serious indications" that about $4 billion may have been misappropriated from state companies in Malaysia. The Malaysian attorney general says his office will cooperate and review the Swiss findings.
1MDB says it has not been contacted by any foreign legal authorities on any matters relating to the company.
February 2016
Switzerland says Najib is "not one of the public officials under accusation" in its probe into alleged diversion of funds.
Answering queries about 1MDB, Singapore says it has seized "a large number" of bank accounts in connection with possible money-laundering in the country. 1MDB reiterates it hasn't been contacted by any foreign legal authorities.
A private banker at the Singapore unit of Grupo BTG Pactual SA has his bank accounts frozen and is questioned in a probe related to 1MDB, according to people familiar.
U.S. authorities issue a subpoena to former Goldman Sachs executive Tim Leissner, had championed a series of bond sales for 1MDB, just days after the bank confirms he had left the firm.
March 2016
Najib received more than $1 billion in his private bank accounts between 2011 and 2013, according to the Wall Street Journal.
Malaysia's central bank says it plans to pursue "appropriate administrative enforcement action" because the company didn't show proof why it couldn't meet an order to repatriate $1.83 billion. 1MDB says it has provided documentary evidence where available.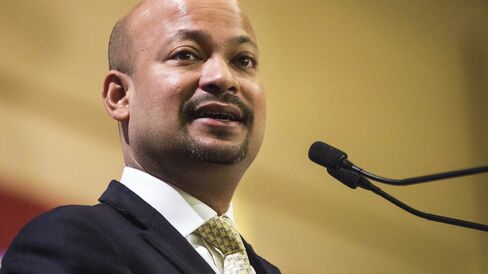 1MDB President Arul Kanda says in an interview "misunderstandings about 1MDB stem from the fact that what was a business problem became politicized." The fund will be a holding company with no operations once the rationalization process is over, he says.
Najib allegedly received millions of dollars in his personal bank accounts between 2011 and 2013 from the Saudi Arabian finance ministry and two men identifying themselves as princes from the Middle Eastern nation, according to the Australian Broadcasting Corp.
Najib's brother Nazir Razak received about $7 million from the premier's accounts ahead of the 2013 election and passed the money onto politicians in the ruling party, according to the Wall Street Journal. Nazir said he believed the money came from donations he helped solicit from Malaysian companies and individuals.
Prosecutors in Luxembourg start an investigation of 1MDB after finding "concrete clues" of embezzlement from companies owned by the fund via accounts in Singapore, Switzerland and Luxembourg.
Related to its probe of 1MDB, Singapore's central bank says it's conducting a "thorough review of various transactions as well as fund flows" through its banking system.
JPMorgan Chase & Co., Deutsche Bank AG and Wells Fargo & Co. are asked by U.S. authorities to retain and turn over records that may be related to improper transfers from 1MDB, according to people familiar with the matter.
April 2016
The Malaysian parliament's Public Accounts Committee identifies at least $4.2 billion of unauthorized or unverified transactions in its probe of 1MDB. It also recommends chief executive officer Shahrol Halmi and other managers be investigated. Shahrol said he hadn't done anything wrong while 1MDB's board of directors offered to resign. The PAC says 1MDB's advisory board should be dismantled.
The PAC report shows 1MDB's borrowings ballooned to over 50 billion ringgit as of January versus assets of 53 billion ringgit. The company gets a further six-month extension to submit its accounts for the year ended March 2015.
Transcripts from the PAC hearings released a few days after the report show Najib's involvement in decisions on questionable transactions that bypassed the board of directors and finance ministry.
Among the unauthorized or unverified transactions highlighted by the PAC were $3.5 billion transferred to Aabar Investments PJS Ltd., which 1MDB said was a unit of Abu Dhabi sovereign wealth fund International Petroleum Investment Co. Days later, IPIC denied ownership of the company.
The Swiss attorney general says it's investigating two former U.A.E. public officials for fraud, criminal mismanagement, bribery and money laundering. The pair handled Abu Dhabi sovereign wealth funds that guaranteed bonds issued to finance 1MDB's investment in power plants. It requests assistance from Luxembourg and Singapore authorities.
1MDB says it had repaid all short-term debt and bank debt, leaving it with 2.3 billion ringgit in the bank.
As critics query the Aabar developments, 1MDB says it could be a victim of fraud if payments of $3.5 billion intended for IPIC never made it there.
Before it's here, it's on the Bloomberg Terminal.
LEARN MORE