South Africa `Flirting' With Recession, World Bank Says
Growth forecast lowered to 0.8 percent from 1.4 percent

Poverty rate to rise due to drought and economic slowdown
South Africa's economy is at risk of falling into recession, the World Bank said, as it cut the nation's growth forecast for this year to 0.8 percent.
The economy is "flirting with stagnation, if not recession," the lender said in a report released on Tuesday in the capital, Pretoria. This year's growth estimate was cut from 1.4 percent, while next year's projection was lowered to 1.1 percent from 1.6 percent.
Growth in Africa's second-largest economy is under pressure following a slump in commodity prices, weakening demand from China and the worst drought in more than a century. The rand has plunged 14 percent against the dollar in the past three months as sentiment worsened and credit-rating companies downgraded the nation's debt because of growth risks.
"We said that we see risks to our forecasts to the downside, so there is a risk of slipping to recession and it's not insignificant," Catriona Purfield, World Bank program leader for South Africa, told reporters. The deterioration in the growth outlook is due to a "sharper than expected" slowdown in China, the reversal of capital inflows, a surprisingly severe drought and policy uncertainty, she said.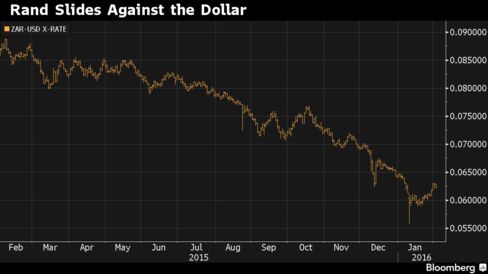 Finance Minister Pravin Gordhan is seeking to restore confidence in government policy after President Jacob Zuma unexpectedly replaced Nhlanhla Nene as finance minister with a little-known lawmaker and then reappointed Gordhan four days later to the post he held from 2009 to 2014. Standard & Poor's in December put South Africa's BBB- rating on a negative outlook, indicating it may downgrade the nation's debt to below investment grade.
"A foreign rating downgrade to sub-investment grade would trigger higher borrowing costs, capital outflows, and risk a recession with knock-on implications for poverty reduction and possibly social stability in the longer term," the report said.
The slow growth in recent years means South Africa's economy needs to expand by an average of 7.2 percent a year from 2018 to achieve the National Development Plan's goals, which include cutting the jobless rate to 6 percent by 2030 from 25 percent, the World Bank said. The economic slowdown may lead to a wider budget deficit and delay the government's plans to stabilize its debt as a ratio of gross domestic product, it said. Gordhan will present his budget to lawmakers on Feb. 24.
The reshuffle in the finance ministry meant South Africa's institutional "strength was questioned and that, once lost, one would have to work very hard to regain again," Purfield said. "That's where the budget will come into key play at the end of this month to demonstrate that the government remains committed, and the institutions underpinning macro-stability in the country remain strong."
The drought has pushed an additional 50,000 people below the poverty line of 501 rand ($31) a month, Purfield said. The national poverty rate will probably increase to 37.4 percent next year from 36.5 percent in 2014, according to the World Bank report.
The World Bank's outlook is in line with that of the International Monetary Fund, which estimates expansion of 0.7 percent in South Africa this year. South Africa's central bank last week cut its forecast to 0.9 percent.
Before it's here, it's on the Bloomberg Terminal.
LEARN MORE