Negative Yields From Paris to Tokyo Draw Investors to U.S. Debt
Foreign ownership of American company debt close to a record

Demand from international investors could bolster corporates
After seeing their borrowing costs rise to their highest level since 2012, U.S. companies may have at least one ray of hope: yield-starved foreign investors.
Those money managers are holding about the largest percentage of the market on record, about 31 percent of the $9.5 trillion of U.S. corporate bonds outstanding, according to Federal Reserve data, up 7 percentage points since 2009.
They have a real incentive to keep buying. After the Bank of Japan cut rates below zero last week, yields on more than $7.1 trillion of government debt globally are negative, while yields on U.S. investment-grade and junk bonds are rising to their highest levels in four years. Demand from foreign investors may help prevent corporate bond prices from weakening much further, said Gareth Isaac, a London-based money manager at Schroders Plc., which oversees $646 billion.
"It's hard to make money anywhere else," Isaac said. "The yield is better, the companies are in relatively better shape, the pool of assets is bigger. To investors, not just from Europe, but from Japan and China, the U.S. looks very attractive." Schroders has been adding to its U.S. corporate bond positions recently.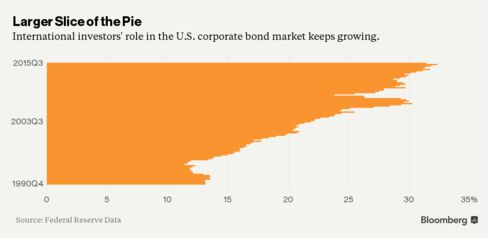 Foreign investors are buying all kinds of U.S. assets, not just corporates. International purchases of U.S. securities increased by $31.4 billion in the three months ended December, the sixth straight quarter of inflows, Treasury Department data show.
Money managers are looking for securities that will offer a positive yield for relatively less risk as growth slows outside the U.S. and foreign central banks boost stimulus.
Bonds issued by American companies look attractive relative to U.S. government debt. The average yield on a U.S. investment grade corporate bond is 1.96 percentage points higher than a Treasury note, according to Bank of America Merrill Lynch Indexes, the highest risk premium since mid 2012.
"The U.S. market has cheapened off so much," said Chris Bowie, a money manager at Twentyfour Asset Management in London, which oversees about 5.5 billion pounds ($7.9 billion). Twentyfour sent a portfolio manager from its investment grade team and a colleague who covers high-yield bonds to New York just before Christmas to seek out "compelling opportunities," according to Bowie.
Whatever difficulty is brewing in the U.S. economy, other countries face an even tougher time. The commodities slump has pushed Brazil deeper into recession, and plunging oil prices have hobbled Middle East crude producers.
Deutsche Bank strategist Jim Reid posits that it's only a matter of time before yields on corporate bonds sold by investment-grade European companies dip below zero in light of continued central bank easing and a sustained rally in the region's debt.
"Our central view is that zero might be a temporary resistance point if government yields rally further but that at some point the dam will break and corporates will trade on a spread basis and go sub-zero," Reid wrote in a note published on Tuesday.
Little Choice
Economists polled by Bloomberg expect China's gross domestic product to grow at a 6.5 percent this year and 6.3 percent next year, compared with an estimated 6.9 percent rate in 2015 and levels well above 7 percent since at least 2008. The global economy will expand 3.4 percent this year, down from a projected 3.6 percent in October, the IMF said in a quarterly update to its World Economic Outlook.
"Investors will have little choice but to put more money into foreign denominated bonds," said Yoshihiro Nakatani, a senior fund manager at Asahi Life Asset Management Co. in Tokyo.
Investing in U.S. corporate debt is hardly a slam dunk. If U.S. growth gets dragged down by the rest of the global economy, the bonds may look like less of a sure thing.
Still, foreign investors have more than doubled their share of the U.S. company debt market in the past 20 years, a proportion that has been growing steadily. Foreign ownership was at a record 32.3 percent in the second quarter of last year, and some investors believe it could rise again from the 31.4 percent reported for the third quarter last year in December.
If these investors slowed their buying, U.S. companies would notice the difference, David Nowakowski, the London-based director of fixed income research at Barings Asset Management, said in an e-mail. Their borrowing costs may well rise, he added.
"The increase by non-U.S. owners has indeed been torrid," Nowakowski said. "U.S. assets are safer and in many cases higher-yielding."
Before it's here, it's on the Bloomberg Terminal.
LEARN MORE