KKR's Energy Head Lipschultz to Leave, Start Firm With Ostrover
Owl Rock will lend to mid-sized companies as banks retreat

Lipschultz oversaw profit-making deals and two bankruptcies
KKR & Co.'s top energy and infrastructure dealmaker, Marc Lipschultz, will leave the private equity firm after 21 years and start a credit fund with former Blackstone Group LP executive Doug Ostrover.
Lipschultz will leave New York-based KKR this month and join Ostrover, who left Blackstone last year, they said in an interview. Their new firm, Owl Rock Capital, will make loans to small and mid-sized companies across industries, as well as invest in their debt, which the pair see as an under-served market after regulations hampered banks' lending activities.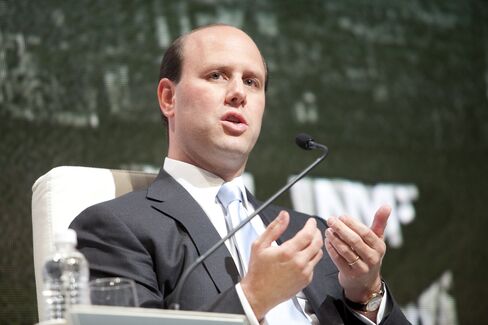 As head of energy and infrastructure investing, Lipschultz oversaw some of KKR's most profitable deals -- and two of its biggest losses. The firm's takeover of Texas utility Energy Future Holdings Corp., a $48 billion leveraged buyout done with TPG Capital and Goldman Sachs Group Inc., ended in bankruptcy in 2014. Its $7.2 billion buyout of oil and gas driller Samson Resources Corp. met the same fate a year later. Meanwhile KKR's investments in East Resources Inc., Hilcorp Energy Co. and a pipeline venture with El Paso LLC scored billions in profits.
Lipschultz's departure isn't related to any individual transaction, said Kristi Huller, a KKR spokeswoman.
"Having started KKR four decades ago with this same desire to build a new business, we understand the appeal to Marc of forming his own organization," co-founders Henry Kravis and George Roberts wrote in a memo to employees on Tuesday. "Knowing Marc as well as we do, we have every confidence his new venture will be a great success and we look forward to KKR doing business with Marc's new firm."
New Venture
Lipschultz, 47, and Ostrover have known each other for more than 15 years. Ostrover, 53, co-founded credit investor GSO Capital Partners, which Blackstone acquired in 2008. The group managed about $10 billion when Blackstone acquired it, and $75 billion when Ostrover left in May.
The duo said they've identified 300 potential private equity firms that have investment funds as large as $4 billion, and that would benefit from alternative sources of financing away from the Wall Street banks that are bound by heightened capital standards. Lending has become more constrained in the past year, Lipschultz said, as regulators clamp down on debt used to finance leveraged buyouts.
"We want to be small and niche," Ostrover said, adding that they've hired about 12 employees for Owl Rock so far. "We think we've found something we can lead in."
KKR Promotions
KKR moved to fill Lipschultz's shoes with a series of promotions announced in the memo from Kravis and Roberts. Robert Antablin was named head of energy private equity in the Americas, and David Rockecharlie will be head of energy real assets and chairman of the firm's energy investment committee. Raj Agrawal and Jesus Olmos will become global co-heads of infrastructure, with Agrawal replacing Lipschultz as chairman of the infrastructure investment committee.
KKR raised $3.1 billion for its second infrastructure fund last year, after collecting $1 billion for the debut pool in 2012. In 2014, the firm finished gathering $2 billion for an energy income and growth fund, which focuses on partnerships, mineral rights, royalties and mezzanine debt. KKR has also invested in energy through natural resources pools and its main North America buyout funds.
KKR's latest private equity fund for LBOs -- called North America XI, or NAXI -- is five percent exposed to energy, Kravis and Roberts said. "This decision has been a very intentional portfolio construction feature for NAXI due to our perspectives over the past few years," they told employees in the Tuesday memo.
Several energy producers backed by private equity firms have been imperiled by the drop in oil prices from $107 a barrel in mid-2014 to as low as $26.55 last month. Apollo Global Management LLC and Warburg Pincus, as well as energy-focused funds such as EnCap Investments, First Reserve and Riverstone Holdings have collectively lost billions of dollars on paper as oil-related stocks have plummeted.
Before it's here, it's on the Bloomberg Terminal.
LEARN MORE