Hong Kong's Last Property Slump Saw Prices Fall by 70%: Chart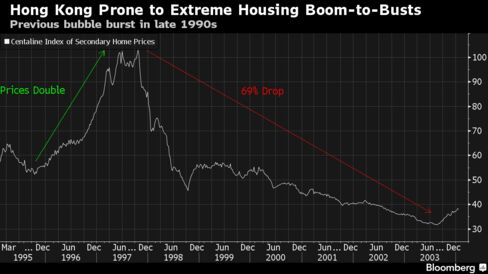 As price declines accelerate in Hong Kong's housing market -- ranked as the world's most unaffordable after gains of more than 300 percent in past 12 years -- the last slump in the late 1990s shows how vulnerable the city's property can be to global events. Home prices plummeted almost 70 percent over a six-year period as the Asian financial crisis and a deadly SARS outbreak hammered investor confidence. Prices also sank in the early 1980s as concern over the future of the then-British colony prompted the government to peg the city's currency to the greenback -- thus tying the hands of policy makers from using interest rates to control property prices.
Before it's here, it's on the Bloomberg Terminal.
LEARN MORE